0 Songwriter Salute to Reggie Calloway
by

Kingsley H. Smith

11/10/2022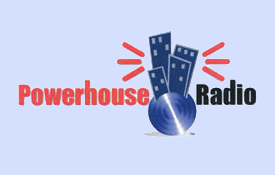 "Impossible Blues" is the one song I wrote as a teen. I've memorized the first two verses, but a bridge and refrain lyric have eluded me for years. It's a song to be continued.
Songwriters become known when one or more of their songs becomes hits or their vibrant words survive through social impact in popular culture.
Reggie Calloway is a songwriter I've admired for years. I've played his tracks performed by others during my shows on the radio.
When the hits stop coming or focus shifts, many artists sell their intellectual property to the large companies who buy up song catalogues.
Whitney Houston, Bob Dylan, and Barry Manilow are just a few who have sold their entire song portfolios.
Beyonce', Justin Timberlake, and Olivia Newton-John have sold individual songs. Reggie Calloway is no different.
I noticed that Mr. Calloway was offering a five percent writer's share of two of his hit songs back in 2009. You'll learn more about these songs after I explain more.
Reggie retained Songvest, the first online music marketplace to offer fans and investors the ability to purchase a writer's share from their favorite songs and artists.
My bids for both "Love Overboard" and "Freak-A-Zoid" did not meet the reserve price which is the minimum bid the seller will accept.
When the auction was extended because no one met the reserve price for these two songs, I bid again for both songs seeking 1.5% of Reggie's writer's share. There were other Reggie Calloway songs in the auction.
I won both bids offering several hundred dollars for each 1.5% share. Today I consider the price a real bargain.
Here are my gold and platinum record presentations complete with Reggie Calloway's handwritten lyrics. The awards are enclosed in two large cases that are both 30-1/2 inches tall, and 18-1/2 inches wide.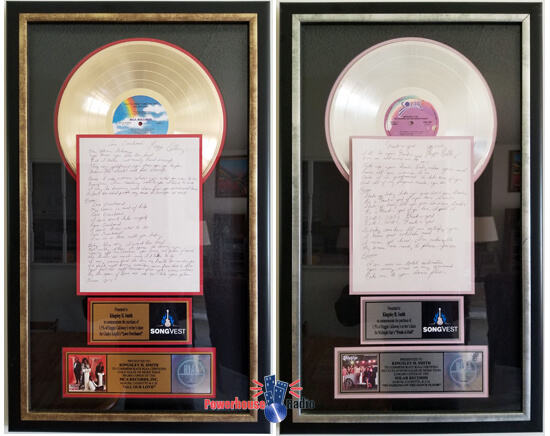 That's "Love Overboard" from Gladys Knight and The Pips on the left," certified gold for 500,000 album, cassette, and CD sales.
"Freak-A-Zoid" from Midnight Star is on the right certified multi-platinum for two million album, cassette, and CD sales.
Here's more about Reggie Calloway from part of his official biography shared with me by his marketing manager.
-----
"Creating music that rings in the heart of souls has been a breeze for the Grammy songwriter, Reggie Calloway.
"His prolific talent as a top music producer, hit writer, musician and artist has attracted some of the biggest names in the music industry.
"Best known as the founder and leader of one of the most popular techno-funk bands, Midnight Star, Calloway lead the group to international success, writing producing and arranging a string of top mega #1 hits:
"Operator"
"No Parking On The Dance Floor"
"Freak-A-Zoid"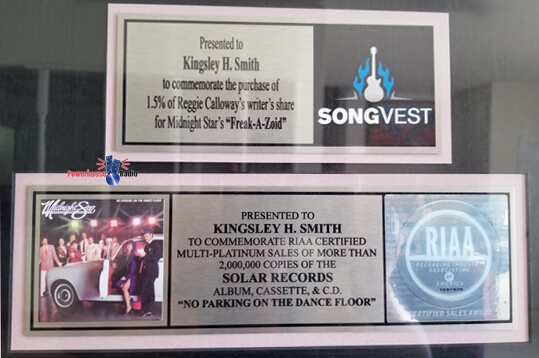 "Reggie Calloway is from Ohio. He earned the respect of music industry insiders for consistently writing a string of Grammy-nominated #1 hits for Teddy Pendergrass, Natalie Cole, and LeVert.
"Mr. Calloway has produced several multi-platinum and gold albums.
"In 1987 Reggie wrote "Love Overboard" for Gladys Knight and The Pips which won a Grammy Award.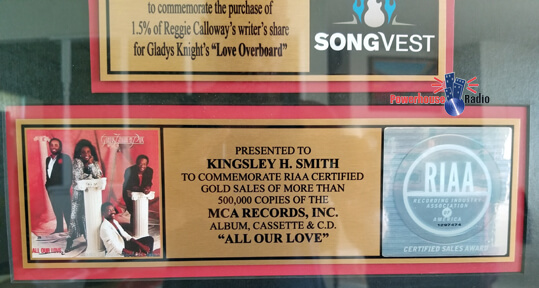 "Reggie received a Grammy nomination for R&B Songwriter of the year for the hit song "Casanova" by LeVert in 1987. He remains active today dazzling us with the magic of his music!"