0 Michael Jackson Mixes Make Immortal Moves
by

Kingsley H. Smith

11/30/2011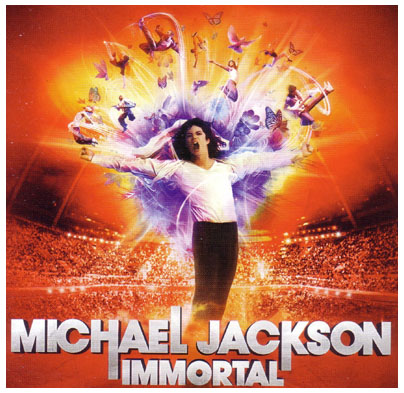 If you've been lucky enough to see the international Michael Jackson Cirque Du Soleil Immortal World Tour going on now through the end of 2012, you've heard some ingenious new takes on several M-J classics.
In the show a live band plays his music to accompany the visual story of his life through the movement of the Cirque Du Soleil performers.
After seeing the electrifying show in Las Vegas in December 2011, I wanted the CD version of these new mixes.
The 'Immortal' versions of Jackson's amazing hits are cleverly mixed. If the originals are burned in your memory, it may take you several plays of the revised songs to hear them in a new way.
Some of the tracks are unique. A few have not been included in previously available material.
My favorites include the English – Spanish version of "I Just Can't Stop Lovin' You" with Siedah Garrett, an acoustic piano only with vocal version of "I'll Be There," and an update to Megamix, now called "Immortal Megamix" featuring "Can You Feel It/Don't Stop Til You Get Enough/Billie Jean/Black or White."
There are 20 tracks here, all emphasizing Michael's voice, from the Jackson 5, Jacksons, and Michael Jackson catalogue.
The use of technology to energize the Michael Jackson experience is to be complemented. In some songs, certain pauses are added, or sped up, just for the right effect, without ruining the soul of the original song.
If you ignored Michael Jackson Immortal when it was released, you should take a second look.