0 Philly's First Choice Exposed
by

Kingsley H. Smith

02/12/2009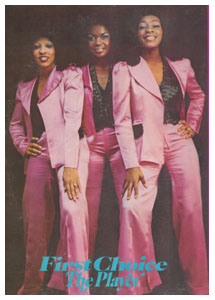 Annette Guest, Joyce Jones, and lead vocalist Rochelle Fleming had their share of big hits when they busted out of Philadelphia, PA during the golden era of classic soul.
First Choice was backed instrumentally by the MFSB gang. The ladies recorded for Philly Groove Records.
You Can't go wrong with these 5 from First Choice:
"Armed and Extremely Dangerous"
"The Player"
"Newsy Neighbors"
"Love and Happiness"
"Smarty Pants"