0 A Creative Source Sure Shot
by

Kingsley H. Smith

04/07/2009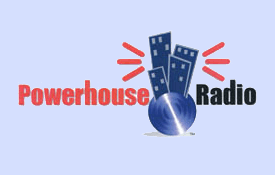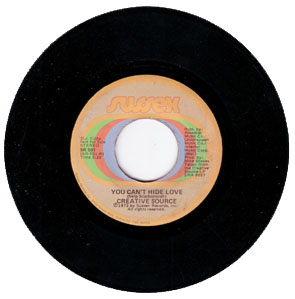 On the flip side of this 45 rpm vinyl dj promotional copy, a famous New York City radio station music director inscribed the phrase "sure shot."
I'm showing you the side without the writing, so you can get a clean look at this Sussex label 1973 original version of "You Can't Hide Love," recorded by Creative Source, and written by Skip Scarborough.
This is the same song that became a big hit for Earth, Wind & Fire on their 1/2 live 1/2 studio double album, Gratitude, in 1975.
Although billed as a "sure shot" by our mystery music director, this fate was not to be. "You Can't Hide Love" did not become a hit for Creative Source.
Creative Source's version sounds closer to what you'd expect from the 5th Dimension or Friends of Distinction - a smooth blend of male/female harmony, but not nearly as progressive in production as the adventurous reincarnation by the elements of the universe, Earth, Wind & Fire.
What makes this copy of the Creative Source song personally valuable to me is the calligraphy on the side of the disc I haven't shown you.
New York City denizens have probably already guessed that the scribe was the famous dj Frankie Crocker, who picked this tune as a WBLS "sure shot" while I was working there.
Yes, this is the actual copy of the 45 that was transferred to an audio tape cartridge and included the opening announcement voiced by Frankie who chimed: "It's another WBLS sure shot." Those were the days!