0 Chess Soul Drives Cadillac Records to the Bank
by

Kingsley H. Smith

01/08/2009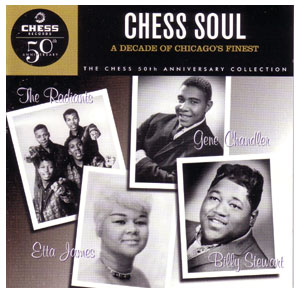 Chicago is one of the great American cities famous for creating musical history.
The 'Windy City' has nurtured great artists, great music, and great radio.
Curtis Mayfield, the Chi-Lites, Walter Jackson, the Lost Generation, and Ramsey Lewis are just a few of the 2nd generation Chi-Town classic soul sensations.
One of the best first generation compilations featuring a treasure trove of Chicago goodies is the double CD Chess Soul: A Decade of Chicago's Finest.
2008's Cadillac Records movie featuring Beyonce' as Etta James is a semi-fictional account of the story of Chicago's Chess Records, and it's founder, Leonard Chess.
After the blues era peaked, Chess, notable for recording the blues masters, turned his attention to the emerging R&B scene.
Chess Soul: A Decade of Chicago's Finest, showcases recordings made between 1961 - 1971.
What makes the Chess soul sound so distinctive is the close lineage the music has to the blues.
Many of the 45 songs featured in this collection were regional rather than national or international hits. All the more reason to take a closer look at the tone and texture that makes these songs stand out.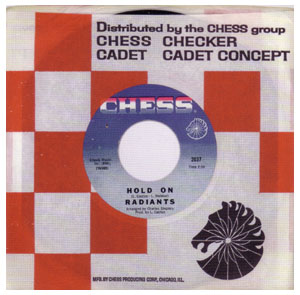 It doesn't get any better than the vintage classic soul sound of Gene Chandler, Fontella Bass, Etta James, and Billy Stewart.
Chess Soul: A Decade of Chicago's Finest was first issued in 1997, to mark the 50th anniversary of the record label.
There's an authentic raw edge to most of these songs.
Singing with emotion is the audience pleasing formula used by these artists.
You won't find as much of the slick uptown production style that marked the later sophisticated soul of Motown, Stax, Atlantic, and Philadelphia International Records.
Regardless, Chess Soul: A Decade of Chicago's Finest is an excellent anthology revealing why the Windy City is so important in the history of R&B.
Take a look through the track list. These songs will bring back great memories.
CD 1
"Mama Didn't Lie" - Jan Bradley
"Strange Feeling" - Billy Stewart
"I've Been So Lonely" - Cookie & The Cupcakes
"Soulful Dress" - Sugar Pie DeSanto
"Love Ain't Nothin' (But A Monkey On Your Back) - Johnny Nash
"Who's That Guy?" - The Kolettes
"Ain't Love Good, Ain't Love Proud" - Tony Clarke
"I Had A Talk with My Man" - Mitty Collier
"I Can't Help Myself" - The Gems
"Don't Mess Up A Good Thing" - Fontella Bass & Bobby McClure
"Voice Your Choice" - The Radiants
"Selfish One" - Jackie Ross
"The Entertainer" - Tony Clarke
"I Do Love You" - Billy Stewart
"Love Is A Five Letter Word" - James Phelps
"The Soul of A Man" - Fontella Bass
"Temptation Bout To Get Me" - The Knight Brothers
"Do I Make Myself Clear?" - Etta James & Sugar Pie DeSanto
"Take Me For A Little While" - Jackie Ross
"What About Me?" - The Valentinos
"I'm Satisfied" - Mitty Collier
"Searching For My Love" - Bobby Moore & The Rhythm Aces
"Only Time Will Tell" - Etta James
CD 2
"Rescue Me" - Fontella Bass
"I'm Not Ashamed" - Bobby McClure
"Stay By My Side" - Jo Ann Garrett
"Have Pity On Me" - Billy Young
"Wade In The Water" - Ramsey Lewis
"I Fooled You This Time" - Gene Chandler
"Don't Pass Me By" - Big Maybelle
"Lonely Girl" - Andrea Davis
"To Be A Lover" - Gene Chandler
"Don't Knock Love" - Barbara Carr
"I Believe She Will" - Eddie & Ernie
"Mercy, Mercy, Mercy" - Marlena Shaw
"A Love Reputation" - Denise LaSalle
"Dirty Man" - Laura Lee
"I Can't Make It Without You" - Fred Hughes
"Hold On" - The Radiants
"Good To Me" - Irma Thomas
"You Left The Water Running" - Maurice & Mac
"Oh What A Day" - The Dells
"Baby, I Love You" - Little Milton
"Losers Weepers" - Etta James
"Give Your Baby A Standing Ovation" - The Dells
Chess Soul: A Decade of Chicago's Finest