0 Dionne Warwick Opens Her Soul in My Life as I See It
by

Kingsley H. Smith

02/10/2011
Dionne Warwick says in her new autobiography, My Life As I See It, released in November, 2010, that a typo misprint on her first single "Don't Make Me Over" changed her surname from Warrick to Warwick.
When her astrologer created a numerological chart in the 1970's, the astrologer suggested adding an "e" to Warwick to create "stronger vibrations."
As Dionne says, "that meant every contract, advertisement, and record cover had to reflect the change."
She explains that record sales dipped, so "I went about getting it taken off all contracts, marquees, and future album covers."
My Life As I See It is a very enjoyable read, as Dionne covers every aspect of her life.
Her grandfather was a minister. She reflects on how people describe her vocal style as "classical or pop, but gospel has been and always will be first and foremost in my world of music."
Dionne Warwick finally released her first gospel album in 2008, Why We Sing. She credits gospel with making her a better pop singer.
Here is an artist who spans the decades from the early 1960's to now. She began as a demo track and background singer in New York City, commuting from her home state of New Jersey.
When her solo career took off (propelled by songs created by the Hal David - Burt Bacharach writing team), she hit the road to tour. Dionne's stories about experiencing 1963 "Jim Crow" racism travelling through the South echo what my other artists in the early 1960's endured.
Apart from her own talent, Ms. Warwick has glorious singing family connections, including her late sister Dee Dee, aunt Cissy Houston, Cousin Whitney Houston, and cousin Leontyne Price.
Excellence takes hard work, and Dionne was no slouch. She took piano lessons every week from age six until her early twenties.
When those singers she respected played within a 100 miles radius of one of her performances, she would go to their shows (Lena Horne, Diahann Carroll, Sammy Davis Jr.), etc., with a legal pad, ask to be seated in the rear of the room with a direct line of sight to the stage, and take notes about every relevant detail of the performance.
She has real bachelor and master's degrees in music.
Dionne speaks frankly about whether her style is black enough.
She says receiving the Rhythm & Blues Foundation Pioneer Award in 2003 was satisfying "to be honored by a sector of the industry that never thought of me as an R&B singer."
"My crossover appeal was one of the factors in my success. My music was played on African American stations as well as white radio stations."
"Ironically, my crossover success in pop prompted something that came as a big surprise: the decline of airplay for my records on African American radio."
When the top New York City R&B station WWRL held off adding "Alfie" to their playlist, Warwick recalls that when the song reached number one (and was finally added by the station), she telephoned into dj Rocky G. while he was playing the song and asked "Why are you playing that white girl's record?"
G. answered, "That is no white girl, and who is this?" Dionne's reply: "This is the one you told was too white to play on your show, This is Dionne." The two laughed about that incident for many years to come.
This anecdote reveals the professional aggressiveness that pushes Dionne Warwick forward through a ground breaking career of many firsts.
1968 - First African American since Ella Fitzgerald to win Best Contemporary Pop Vocal Grammy.
1979 - First female solo artist to win Grammy awards in pop & R&B in the same year.
In the 1980's she was one of the first artists to develop a fragrance, "Dionne."
1980 - 1988. She is one of the first African American females to host a music variety television program (season one and season five) of Solid Gold.
Say a Little Prayer, her first children's book, was published in 2008.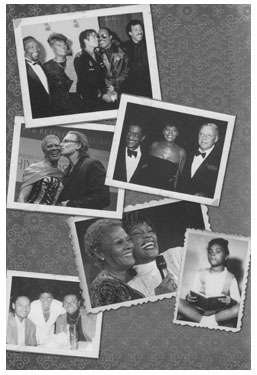 You get the sense that Dionne Warwick has clear values with focus, a factor that has contributed to her success.
She talks about embracing collaborations with Barry Manilow leading to the massive hits "Deja Vu" and "I'll Never Love This Way Again," but being highly fearful about the "Heartbreaker" song project with the Bee Gees.
Dionne explains about several Bee Gees member Barry Gibb songs presented to her: "one I thought was just not me was "Heartbreaker." "I did not like it."
Finally giving in to producer Gibb, Ms. Warwick adds "needless to say, I was wrong, and he was right. "Heartbreaker became one of my biggest international hits to date."
I'll close with this Warwick - Mary J. Blige encounter, which gives you further incite into 'the soul of Dionne.'
In the 1990's, Warwick participated in organizing talent for a show Celebrate the Soul of American Music.
This program gave her the opportunity "to meet Mary J. Blige. "She was "rough" around the edges at the beginning of her career. But she was an important part of the new sounds that were defining rap and hip-hop."
"Why she had been asked to do this show, I don't know, because the Stellar Awards honors the gospel community. But there she was, showing up to rehearse in her fatigues and combat boots."
"When the dress rehearsal for cameras was about to begin, most artists brought out what they would be wearing to show the colors. Ms. Blige was still in fatigues and combat boots."
"I asked if she would bring out what she intended to wear on the show. In not such a ladylike way, she let me know that she had on what she was going to wear."
"I had to say that what she had on was not appropriate for the show."
"I told her I could send one of the stylists out to get her something. But, without missing a beat, she again let me know in no uncertain terms that she was wearing what she had on."
"I then said she would have to wear that somewhere else, because she was no longer on the show."
"I ran into her again a few years later at the inaugural ground-breaking ceremony of the Magic Johnson Theatres in Harlem and I almost didn't recognize her."
"She was beautifully dressed to the nines."
"She approached me and asked if I remembered her, and I said I did. She thanked me for opening her eyes to the reality of who she should be and now was."
"Watching her become someone to respect within her community of young entertainers has been great."
"She is now the epitome of positive imagery and high self-esteem."
"She has fought the battle with negativity and won the war. Thank you, Mary J. Blige, for being."
And thank you Dionne Warwick, for an eye-opening book, an amazing career, and your trailblazing pioneer efforts since the early 1960's.
Watch and listen to Dionne Warwick's live performance of "Alfie," from 1993 in Brazil.