0 Evelyn 'Champagne' King uncorks her New Spirit
by

Kingsley H. Smith

10/25/2006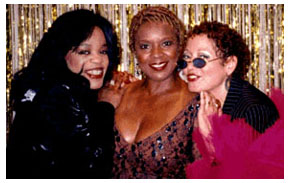 I've always enjoyed Evelyn "Champagne" King, (left in this photo, along with Thelma Houston, and the late Vicki Sue Robinson).
Of the three times I've seen E-C-K live, her booming voice always left a lasting impression. She started out in the music business as a teenager, performing her lively hits, including "Shame," "Love Come Down," and "I Don't Know if it's Right."
Evelyn's waited in the wings for over a decade before recently signing a new recording deal.
She really hasn't gone anywhere, as she's continued to perform through the years. Her new album will give her the opportunity to expose her talent to a whole new generation.