0 Janelle Monae Jams with the Big Boys
by

Kingsley H. Smith

08/10/2010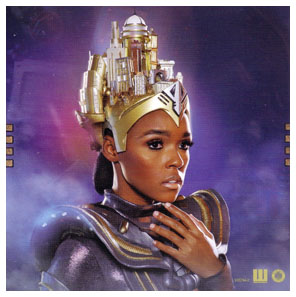 The latest 2010 darling of every music critic in the world seems to be Janelle Monae, the young Kansas City, Kansas cross-genre phenomenon.
She's been slotted into contemporary R&B, neo-soul, dance-rock, indie rock, and pop-rock.
Read what the music critics say about Janelle Monae.
After listening to her album The Archandroid in it's entirety on one long summer car trip, I have to say that Janelle Monae is extremely gifted.
She's a chameleon of styles. When singing without the protection of vocal production gimmicks, her friendly warm voice is exposed.
Roberta Flack, Tina Turner, Beyonce, or Pat Benatar?
Monae reflects them all in a wall-to-wall 18 track sonic assault.
The Archandroid is schizophrenic with ambition.
There's not much cohesion moving from one song to the next.
As a decent 2nd album, Monae does deserve credit for producing something totally different.
"Tightrope" featuring Big Boi from Outkast offers James Brown funkiness with the album's most accessible commercial selection.
Note, the rest of the album is nothing like "Tightrope."
Janelle Monae proves that there's always someone new on the horizon who can cut through the clutter of the "me too" clones and offer something unpredictable and fresh.
Watch the well produced "Tightrope" video.