3 Labelle is Back to Now with Roll Out
by

Kingsley H. Smith

09/18/2008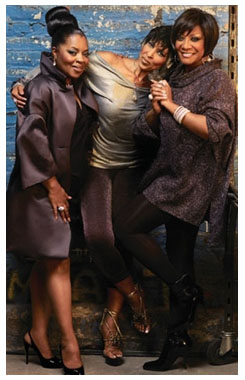 Sarah Dash, Nona Hendryx, and Patti LaBelle (left to right) are back in the game with Back To Now, a new Labelle album to be released on October 21, 2008.
Lenny Kravitz, Kenny Gamble & Leon Huff, and Wyclef Jean share producing chores for the reunited songbirds.
Nona notes that "working with both Lenny and Kenny & Leon was meant to be. I really think the music led us to the people who would understand the new Labelle credo 'back to now'."
This new chapter of the Labelle story promises to deliver more of what the group is famous for: strong voices, provocative songs, and feminist themes.
Nona adds "our new album is like going home and eating your Mom's cooking, if your Mom was a good cook, that is!"
Sylvester's "You Make Me Feel Mighty Real," also reincarnated on Thelma Houston's A Woman's Touch from 2007, is back one more time featuring the mark of LaBelle. Sarah says "It ain't nothin' but a jam. It's gonna make you dance like a fool."
Back to Now also features the Gamble & Huff 'message in the music' inspired "Tears For The World," of which Patti LaBelle says "it talks about all the things we want to change."
It looks like the return of this pioneering trio will be a definite hit.
Listen to 30 seconds of "Roll Out," the Wyclef Jean produced first single from Back To Now.
2021 Update: Poll removed. Thank you for voting!
Please cast your vote from a low of 1 to a high of 5 (no page reload is necessary) and/or leave a comment with your thoughts about the track.
I'll let you know what I think when I review the entire album.