0 Manhattans Mark Mellow Memories
by

Kingsley H. Smith

04/17/2007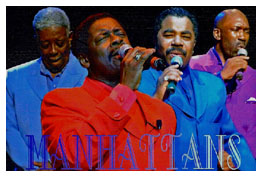 Winfred "Blue" Lovett, Richard Taylor, Kenny Kelley, George "Smitty" Smith and Sonny Bivins were the original Manhattans.
I always enjoyed seeing them perform live in the Philadelphia, Pennsylvania region.
The Manhattans moved to Columbia Records in 1973, where they collaborated with producer Bobby Martin on a string of hits...
"There's No Me Without You"
"Hurt"
"Kiss And Say Goodbye" (a 1976 platinum selling #1 pop and R&B hit)
Occasionally on Powerhouse Radio, (but not very often), I'll play the "X" rated version of "Kiss and Say Goodbye," a special 45 RPM vinyl DJ only version featuring a hilarious intro by "Blue" Lovett who laments in racy language the end of the affair (that the song is all about).
In 1985, The Manhattans added a female vocalist to the act: Regina Belle, who would later sign with Columbia as a solo artist in 1986.
On February 25, 1999 The Manhattans were inducted into the Rhythm and Blues Hall of Fame.
In 2004, they celebrated their 40th anniversary.