0 Miriam Makeba's Global Crusade for Justice
by

Kingsley H. Smith

11/11/2008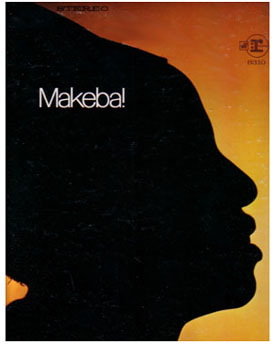 South Africa's musical giant, Miriam Makeba, passed away Monday, November 10, 2008, at the age of 76.
This vinyl album, Makeba!, Reprise 6310, is a USA import released in 1967 and was issued in either South Africa, or Venezuela.
Miriam was born in Johannesburg, South Africa. Her anti-apartheid activism will share equal billing with her musical legacy.
The singer appeared at the United Nations in 1963 to condemn apartheid and it's evil of racial separation.
She spent 30 years in exile after her passport was revoked by the South African government.
Her biggest hit was 1967's "Pata Pata." Miriam is one of the artists credited with creating the genre called 'world music.'
She's one of the biggest names to emerge out of South Africa.
I've included this second shot from the back cover of Makeba!
The 11 tracks are listed, along with some very comprehensive liner notes written by A.B. Spellman (included on the back cover).
Here are A.B. Spellman's complete comments...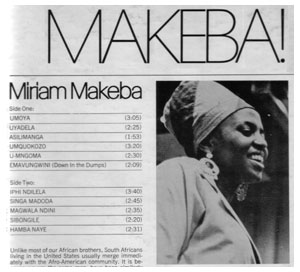 "Unlike most of our African brothers, South Africans living in the United States usually merge immediately with the Afro-American community.
It is because we are the same men, have been similarly uprooted and dominated by European technological society, our ancestors reburied and our gods raped. and now we fight the same war.
It is no accident, then, that we love each other's music. The brilliant South African poet Keorapetse Kgositsi le wrote: John Coltrane, John Coltrane, tell the ancestors We listened, we heard your message Tell them you gave us tracks to move, Trane, and now we know The choice is ours...
I am told a new Miles Davis record that reaches Johannesburg or Capetown is treated like a rarer-than-diamonds jewel. I also know that there is a great body of South African music that never reaches us here in the States.
But we have a small but growing colony of South African musicians who do very well among us.
The leading flame of that colony is, of course, Miriam Makeba, easily one of the world's premier singers.
But we should never forget, even when digging a record as exquisitely truthful as this one, that the tradition runs from Makeba and Letta Mbulu to the Dark City Sisters and from Hugh Masekela to Dollar Brand; that there have been innumerable geniuses in the genre who never escaped Johannesburg.
Certainly, sister Makeba has this aura of beauty around her entire persona, and that is not a learned thing.
It is not merely that she has a beautiful voice, looks good and has a sweet personality - there are innumerable soft brown birds who get that together- but that Makeba has an added quality to her presentation, a touch that gets inside us and makes us stronger.
It may be several things. It may be that she was the first to make the South African-Afro-American synthesis and therefore has a greater element of originality in her work; it may be only that she is especially gifted (at the time the film which launched her, Come Back Africa, was made, she was already the brightest young star in South Africa).
But it seems to me that there is another element to Miriam's singing style and feminine persona that makes us react more deeply to her singing than we would to most.
It is that the sister is what she sings, and what she sings is never trite. She is the soft, resilient fiber of nature as woman. She carries the image of African womanhood, the gentle assegai that lets us know we are warriors.
When she sings of the white-blown evil windspirit (Umoya) that cuts into the inner landscape of her people, she is the counterbreath of liberation that, quiet as it's kept, is blowing in South Africa today.
The song is a spirit rhythm that rises in your chest and carries you out to action. My brother Steve Mncube tells me that the song floats on several levels of double entendre.
This is a defense mechanism that has been creeping into the Bantu languages since the defeat of Cetshwayo in the Zulu War of 1879.
Steve explained to me the word iliwizwe, integral in the proverb from which this song was made. It is more than land, more than soil, more than the earth that no man can possess.
It existed even before the earliest ancestors; and children, as the ongoing fruits of nature, own it more than the man who farms it.
Then this fixed ownership concept is itself an evil Moya (Spirit-wind) of European origin, and must be destroyed.
Miriam Makeba prods her menfolk gently in Magwala Ndini and Singa Madoda, both traditional men's songs, and strengthens the warrior in us. Steve says the kind of man the word Madoda describes practically sleeps with his weapons, that he would fight bullets with an assegai.
Yes, says the sister's versions of Magwala and Madoda, you are the men and must carry the man's weight, but if you don't carry it correctly, and bravely, there'll be a lot of answering to do when you get home in the evenings.
The range of material, ideas, and vocal treatment in this record is incredible, yet it is integrated. With one rhythm Miriam pushes the recreant to be more manly, with another she invokes the Xhosa clairvoyant (U-mngoma) or calls the farmers to prepare next year's harvest in the face of this year's famine (Asilimanga).
In Iphi Ndilela her voice rises bravely above a lachrimose chorus to say goodbye to her homeland, friends, and family as she goes far, far away across many mountains and rivers, to find another life.
Then in Sibongile, dedicated to President Sekou Toure of Guinea, she thanks President Toure for making her an honorary citizen and, implicitly, for giving aid and assistance to South African Freedom Fighters.
There is much, much more to this deep and subtle record. I am tempted to call this her best record, but Miriam Makeba is so consistently good that there is no point in trying to decide which is best.
I will say that this is by far the most African of her recent releases. Here she is working in a purely African environment, and all the elements of her style are brilliantly focused. "Black is Beautiful" goes a current slogan, and Miriam Makeba is beautifully black."