0 Al Jarreau's Christmas 2008
by

Kingsley H. Smith

11/06/2008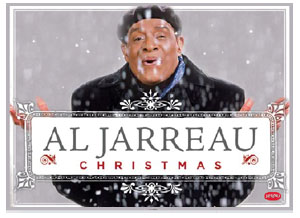 The term "song stylist" get tossed around a lot. Al Jarreau is one singer who has earned the tag.
Jarreau's distinctive voice and phrasing style puts him in unique company among the fraternity of balladeers.
Al's Christmas is a charming collection of holiday favorites.
"Winter Wonderland" kicks off the yuletide mix bouncing along with a soulful beat to Mr. Jarreau's lilting inflections.
"Hark The Herald Angels Sing" gets a respectful contemporary reading embellished with nice classical touches.
If you like your Al Jarreau contemplative and melodramatic, "White Christmas" delivers in this style.
The 2 tracks featuring the group Take 6 showcase the pure magic of traditional vocal harmony.
Jarreau touches various styles from jazz to R&B to pop in this, his first holiday collection.
Some of the arrangements remind you of similar approaches other artists have taken sculpting these familiar melodies. However, the power of Jarreau prevails giving these songs a vibrant Mr. J personality.
Two thumbs up for Al Jarreau Christmas:
"Winter Wonderland"
"Hark The Herald Angels Sing"
"White Christmas"
"Interlude: By My Christmas Tree"
"Carol Of The Bells"
"O Come All Ye Faithful"
"The Christmas Song, (Chestnuts Roasting On An Open Fire) - (featuring Take 6)
"I'll Be Home For Christmas - (featuring Take 6)"
"Gloria In Excelsis"
"Christmas Time Is Here"
"Have Yourself A Merry Little Christmas"
"Some Children See Him"
"The Little Christmas Tree
"Angels Singing..." untitled bonus