0 Soul Men Soft at Box Office
by

Kingsley H. Smith

11/13/2008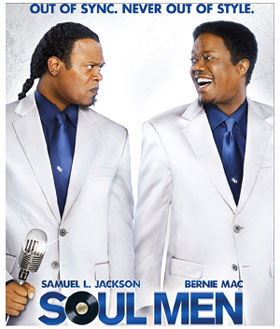 With an opening weekend gross of just over 5 million dollars, 5th place finisher Soul Men got socked by High School Musical 3: Senior Year, and Madagascar: Escape 2 Africa during the November 7 - 9, 2008 weekend.
Don't despair, because even though the reviews have been mixed, the performance of Bernie Mac has been universally applauded.
In Mac's final film role, he plays a classic soul man who is called to the stage one more time for a reunion at the Apollo Theater in New York City.
The CD movie soundtrack has some great performances.
Take a look through the track list, and you'll recognize a few songs that are very familiar.
Rufus Thomas, Isaac Hayes, Booker T & the MG's, and Sam & Dave recorded some of the original versions back in the day.
Here are all of the songs included in the CD soundtrack of Soul Men:
"Soul Men" - Anthony Hamilton
"I'm Your Puppet" - Bernie Mac, John Legend, & Samuel L. Jackson
"Private Number" - Chris Pierce, Leela James
"Water" - Me'Shell NdegeOcello
"Never Can Say Goodbye" (Soul Men Redux) - Isaac Hayes
"Boogie Ain't Nuthin' (But Gettin' Down)" - Bernie Mac, Samuel L. Jackson
"Just Dropped In (To See What Condition My Condition Was In)" - Sharon Jones & The Dap-Kings
"Memphis Train" - Ryan Shaw
"Comfort Me" - Sharon Leal
"You Don't Know What You Mean (To A Lover Like Me)" - The Sugarman 3 - (featuring Lee Fields)
"I've Never Found a Girl (To Love Me Like You Do)" - Eddie Floyd
"Do Your Thing" - Bernie Mac, Samuel L. Jackson, & Sharon Leal