0 Teena Marie Steps Into Congo Square
by

Kingsley H. Smith

06/11/2009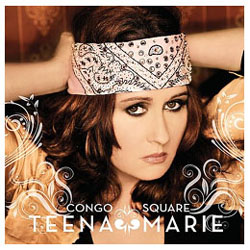 Teena Marie checked in on Tuesday, June 9, 2009, with Congo Square, her latest release.
The tracks are slow to mid-tempo, and include some interesting collaborations with several guest performers.
After scanning through several reviews of this album it's clear that die-hard Teena Marie fans really like what they are hearing.
A more honest analysis reveals the lack of a really outstanding track to attract her more casual fans back into the fold.
Read the following excerpted official Teena Marie biography and listen to 20 seconds of the title track featuring George Duke below.
Here's the Official Teena Marie Story:
"For nearly three decades, pint - sized, soul stirring songstress Teena Marie has undeniably been a force to be reckoned with in the nearly thirty years of her professional performing career.
The accomplished singer, songwriter, producer and arranger has managed to consistently capture the hearts and spirits of millions of fans with her music.
Nominated for a Grammy Award four times, Mary Christine Brockert had a strong African American influence from her godmother. Blessed with the gift of music at a young age, the Santa Monica, California native was raised on Motown music.
Singing Harry Belafonte by age two, Ms. Marie's self-professed "Gift from God" would become fine-tuned as the years progressed.
Signed to her dream label at age 19, Teena Marie's magic would be further developed under the tutelage of the legendary, Rick James.
Her 1979 debut Wild And Peaceful, produced by James, garnered a #8 R&B single with "I'm A Sucker For Your Love."
In 1980, her second and third albums, Lady T and Irons in the Fire were released, producing the hit classics "Behind The Groove" and "I Need Your Loving."
In this period, Teena Marie took creative control of producing, writing and arranging her material. In 1981 Ms. Marie released the platinum selling It Must Be Magic, featuring the up-tempo "Square Biz" and slow jam "Portuguese Love."
In 1982, Motown sued Teena Marie for breach of contract after she informed the label that she no longer wanted to perform.
Subsequently, Ms. Marie filed a countersuit against Motown and won. The countersuit resulted in the landmark artists' rights initiative known as "The Brockert Initiative," - Ms. Marie's last name - placing strict limitations on the length of artist/company contracts.
This historical entertainment mandate states that no recording company can contractually bind an artist while refusing to release his/her product.
After winning the lawsuit, Teena Marie signed to Epic Records (1983), and went on to record five more albums throughout the late eighties and early nineties, including Starchild and the hit single "Lovergirl" and Naked to the World which features the smash hit "Ooo La La La."
Teena independently released Passion Play on her own Sarai Records in 1994, but it wasn't until ten years later that she would resurface to again share her voice and talent with the world.
As the sole artist signed to Cash Money Classics, the subsidiary of New Orleans rap entity Cash Money Records, Teena released La Do'a in 2004, which yielded the Grammy nominated #1 hit "Still In Love."
Sapphire was her next release.
The sudden passing of Teena Marie's mentor and friend Rick James in 2005 served as the backdrop to the creation of Sapphire.
Their often tumultuous, always fertile relationship served as inspiration once again, for Ms. Marie's, as she put pen to paper and recalled the indescribable experience of working with such a creative force of nature as Rick James.
"I really couldn't deal with my pain and I think that God intervened. Actually, I felt like Rick was with me writing. Some nights I would just sit up in the bed like he tapped me on the shoulder 'Get up and write this song.' It was a blessing that I had that album to write because I don't know what I would have done if I didn't have that creative outlet."
"Congo Square"
Teena Marie Congo Square:
"The Pressure" - (featuring MC Lyte)
"Can't Last a Day" - (featuring Faith Evans)
"Baby I Love You"
"Ear Candy 101"
"Lover's Lane" - (featuring Howard Hewett)
"Marry Me"
"You Baby"
"Milk N' Honey" - (featuring Rose Lebeau)
"What U Got 4 Me"
"Rovleta's Jass"
"Congo Square" - (featuring George Duke)
"Harlem Blues"
"Black Cook"
"Ms. Coretta"
"Soldier" - (featuring Shirley Murdock)
"The Rose N' Thorn"