1 The Chambers Brothers Shout
by

Kingsley H. Smith

02/05/2009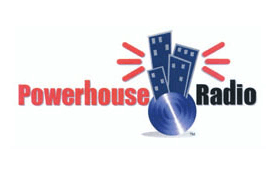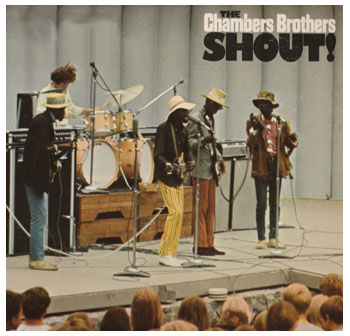 The weekend of February 12 - 13, 1971, The Chambers Brothers made their 4th appearance at Bill Graham's legendary Fillmore East in New York City.
Here's the biography that was included in the official program that weekend (from an original hard copy in the PowerhouseRadio.com archive).
"The Chambers Brothers, Willie, George, Lester and Joe were born in Mississippi and made their debut in Lee County's Mount Calvary Baptist Church."
"At that time George was seventeen; Willie was eleven; Lester was nine; and Joe seven. Soon afterwards the family moved to Los Angeles and the Brothers continued to sing together in church groups."
"Their first professional break came when they met the owner of a club called The Ash Grove, and from there they moved on to gigs in other local clubs."
"In 1961 the Brothers turned professional, and for the next two-and-a-half years continued to concentrate on gospel songs and play small clubs and coffee houses."
"When their emphasis changed to pop tunes and blues, they found themselves in need of a drummer. They met Brian Keenan one night at Ondine in New York, liked his playing, and asked him to join the group."
"Brian was born in Manhattan, but raised in small towns in Ireland and England. When he was eleven, he returned to the United States, living in the Bronx."
"One of his main hobbies was observing the street bongo-players and by the time he moved back to England as a teenager, he had his own set of drums. After living in London for several years, Brian once again returned to New York where he met the Brothers."
----------
Before The Chambers Brothers scored with several big hits while recording for Columbia, they recorded a series of tracks around 1965. The picture above is from Vault Records album #120 Shout, released in 1968, three years too late, masquerading as new product to compete with the hot Columbia material.
Shout featured an 11 minute live version of a song originally made famous by the Isley Brothers. The other Shout tracks were recorded in the studio.
Although the Chambers Brothers were ultimately more popular with the pure pop crowd than the classic soul fraternity, they are significant in the 60's landscape because they attracted an integrated audience with their soft psychedelics and gospel influenced vocals.
The Chambers Brothers had the crossover appeal of a Prince, Michael Jackson, and Sly & The Family Stone.
Here are my picks for the top 5 Chambers Brothers Songs:
"Funky"
"People Get Ready"
"Love, Peace, and Happiness"
"I Can't Turn You Loose"
"Time Has Come Today"