2 Unique Musique Banned in Boston
by

Kingsley H. Smith

03/25/2009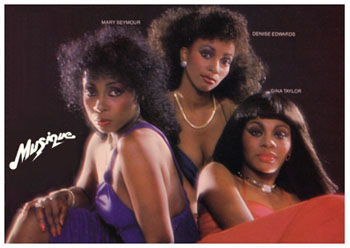 Musique's 1978 dance hit "In The Bush" psyched out a lot of people who select radio station songs due to suggestive lyrics that seem mild today.
The hook laden refrain "push push in the bush" caused manager imaginations to run wild, even though there wasn't one real naughty word in the entire song.
Earlier in the same decade the word "crap" was edited out of Paul Simon's song "Kodachrome" before some radio stations would play it.
With such sensitivity by radio people not to offend local "community standards" among rabbit eared listeners, the hesitation to play "In The Bush" was not a surprise.
No station wanted a listener to complain to the Federal Communications Commission.
The original Musique featured Jocelyn Brown, Angela Howell, Gina Tharps, and Christine Wiltshire on Keep On Jumpin'.
Pictured here are their replacements, Mary Seymour, Denise Edwards, and Gina Taylor, who were featured on the 2nd album, Musique II.