0 Writing Powerhouse Radio Step By Step To The Finish Line With Bonus Interview
by

Kingsley H. Smith

08/05/2023
In January, 2023 I offered an update about writing my radio memoir: Powerhouse Radio. This book project was completed June 27!
On March 4, I displayed the book cover, (not the version below), on one of my social media channels. Once the cover was out there, the incentive to finish writing went into overdrive!
Sixteen thousand words were written in the first two years of the project (2021 - 2022) while I was still working full-time in my app business. That business is still rolling along.
Since January of this year, I wrote another twenty thousand words in 5 months. The final unofficial word count is 36,741, or approximately 172 paperback pages.
Many people I talked to said that 150 pages was the perfect length that they wanted to read.
Using the iOS Books app for the e-book, there are 231 pages on an iPhone, and 118 pages on an iPad.
The Kindle Previewer software app doesn't give a declarative real world page number total I would want to quote. You can't use the regular Kindle app that is on Android phones and Fire Tablets to test e-book design formatting.
Once the audiobook is finished, I'll let you know how many hours it is. I've been promised a mid-August 2023 completion date.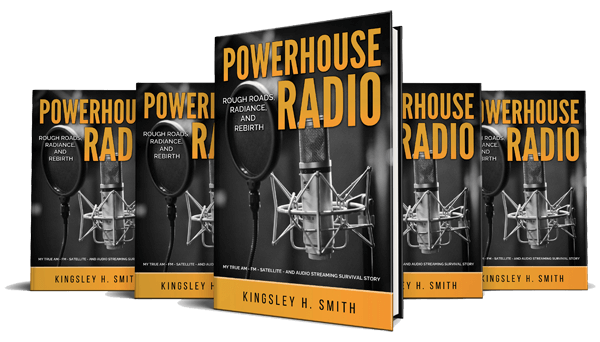 Frankly, while writing Powerhouse Radio: Rough Roads, Radiance, and Rebirth; My True AM - FM - Satellite - and Audio Streaming Survival Story, I focused on writing for the page.
Nothing is the matter with that, except presenting the same story in an e-book or audiobook requires some changes!
With your e-book, these elements may flow differently on screen:
Text Wrapping
Fonts
Drop Caps (fancy styles for first letters of a paragraph)
Justification
Image Captions
Individual devices, (your e-reader), will dictate how each of these elements are handled. Note that print book back covers are not included in e-books.
For your audiobook, I had to lightly re-write certain references of the paperback text. "You'll read in the next chapter" changed in the audiobook to "you'll learn in the next chapter." There are other similar examples.
My grammar, spelling, and syntax is pretty good so I didn't use a line-by-line professional editor to review the manuscript.
However, it was money well spent to use a professional copy editor to go through the manuscript and catch a relatively small number of errors.
The copy editor also encouraged me to further explain a few sections that could use more clarification.
Lastly, I also used a professional proof reader to go through the book as the final step.
In broadcasting jobs, I was used to the AP style, which is the Associated Press guide for grammar and citations.
My proof reader was a Chicago Manual of Style expert. Really good. This person was more valuable in suggesting grammar changes than the copy editor! Publishers dictate what style you need to use when writing a hardcover or paperback book.
My hardcover Chicago Manual of Style Seventeenth Edition is a massive brick weighing 4 pounds with 1,152 pages. It's very difficult to find what you are looking for in this reference!
I would not write a book without using a professional copy editor AND a professional proof reader. You want to select someone who does this work full-time. My publisher selected both for me.
KingsleyHSmith.com has more info about the book including some of the retailers you can preorder it from: Amazon, Barnes & Nobel, Books-A-Million, Walmart, and BookBaby. Note that the eBook and paperback are available right now from BookBaby.
Official launch dates are January 3, 2024 for the eBook, and January 10 for the paperback. You can preorder Powerhouse Radio right now. Follow the links above.
Audiobook availability date is to be determined. It might come sooner than the e-book and paperback.
I could have gone with an almost human sounding AI 'robot voice' to read the audiobook, but I feel this would have been a cheap mistake and a disaster.
An audiobook that is about general broadcasting - performing arts - and is additionally slotted as a 'Black and African American memoir' needs to be read by an authentic human being.
You'll love the guy I selected to read the audiobook. I could have read it myself, but I wanted to give a younger 'voice actor' a chance to shine the way I was given opportunities when launching my career many years ago.
A special bonus for you! Here's my very first interview recorded on the enclosed front porch of radio station WWRL AM in Queens, New York City with DJ Gary Byrd when I was a student at NYU. I've freshened it up with some new millennium visual appeal.
Discover how this New York Radio legend writes his prose. You'll learn his secret.
I also re-recorded my questions in a studio for better audio quality.