0 5 Black History Comics Comment Constructively using Laughter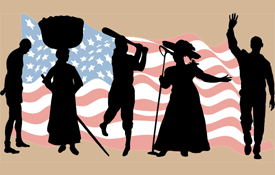 Contemporaries Dave Chapelle, Chris Rock, Whoppi Goldberg, and Eddie Murphy have entertained millions with their antics, laughter, and fun.
Their unique styles draw inspiration from the great comedians that came before them.
When vocal African American funnymen and women observe the world, black history stories become anything but depressing.
Let's take a look back, and recall 5 "old school" greats. These are the legendary crafty commanders of wit. Each fused social commentary together with entertaining quips to produce fabulous "standup" routines.
1) Comedy legend Jackie "Moms" Mabley, (1898-1975), began her career in 1923.
She opened for such greats as Count Basie, Duke Ellington, Louis Armstrong, and Cab Calloway.
Mabley didn't record her first album until 1960, but it turned into a gold record, generating over one million dollars in sales. She'll forever be remembered for her comedic genius.
2) Redd Foxx (1922 - 1991), was really hardcore hilarious. I was lucky enough to see him live in a nightclub setting before he became big on television (starring in Sanford and Son). If Stanford and Son was rated G, Foxx's live act was definitely rated X, (or R by today's standards). Foxx is one of the most influential comics of all time.
3) Richard Pryor (1940 - 2005), is also remembered as a comedic genius. If you listened closely to his bits, Pryor was always slipping in some gritty social commentary between the laughs. Here's one of my favorite Pryor routines:
"I went to see Logan's Run right, they had a movie of the future called Logan's Run, I said well white folks ain't planning for us to be here!"
4) Dick Gregory. When I originally wrote this article, I neglected to include perhaps the strongest social activist to use comedy as a catalyst to express change.
Born in St. Louis Missouri (1932), Dick Gregory is best known today as an author, nutritionist, and civil rights leader. He started his career as a comedian, and found humor in the adversity of the poverty of his youth.
5) Bill Cosby was the first African American actor to receive an Emmy Award (1966) for his role in the television series "I Spy." The Philadelphia native continues to be extremely successful as a comedian, actor, writer, producer, and critic of eubonics (loosely defined as African American jargon).
Honorable mentions to Flip Wilson, Nipsey Russell, Sinbad, Jimmy Walker, Franklyn Ajaye, George Wallace, and Arsenio Hall for their contributions to black history laughter through the years.
2018 Update: Dick Gregory, (1932 - 2017).