0 August Beckons Black History People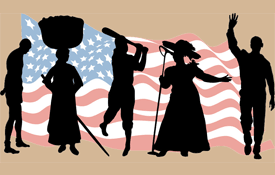 August is a very busy month for noteworthy accomplishments of black history people. Just sample this five-decade timeline...
1936 - Jesse Owens wins four gold medals in the Olympics
1943 - W.L. Dawson becomes the Vice Presidential candidate of the African American Democratic Party
1950 - Boxer Ezzard Charles defeats Freddy Beshore
1963 - Martin Luther King Jr. leads the March on Washington, DC
1977 - Lou Brock sets baseball's stolen base record
These aren't the only significant years. August is literally a hot month through four hundred years of important black history:
From 1619 and the arrival of Africans to Jamestown, Virginia...
Through the 18th Century, and the founding of the AME Zion Church in 1796...
To Nat Turner's 19th Century Rebellion in 1831...
When the heat is on, pioneers in black history have maintained their cool, and have risen to the occasion.
Let's not neglect the other eleven months however, as more accomplishments have taken place every day of the year than we could ever imagine.