0 Capitol Men Chronicles the First Black USA Congressmen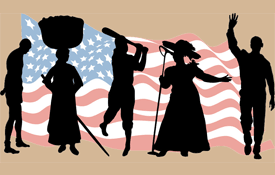 Blanche Kelso Bruce, Hiram Revels, and P.B.S. Pinchback get most of the credit.
Right after the Civil War, a very large number of African Americans were elected to Congress, almost exclusively by black constituents.
Historian and author Phillip Dray reveals how during Reconstruction, African American legislators by the hundreds took their place in black history.
Capitol Men: The Epic Story of Reconstruction Through the Lives of the First Black Congressmen is an eye-opener and a must read.
We know how this story ends, with 'black codes,' Jim Crow laws, and blatant discrimination to "zero out" the presence of African American Congressional leadership by the end of the 19th Century.
Discover the fascinating story for yourself by learning more about these capitol men.