0 Conductors Tubman, Harper, and Harris Lead the Underground Railroad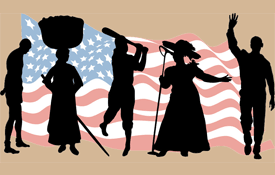 Harriet Tubman, (1820-1913), helped nearly 300 slaves escape bondage from the Southern United States by using a network of safe houses, homes, and churches known as the Underground Railroad.
Through ingenious disguises, she evaded capture while leading slaves along the Underground Railroad into the North. Some were lead as far north as Canada (outside the jurisdiction of the U.S. Fugitive Slave Law).
Frances E. Harper, (1825-1911), (the first black woman to publish a novel in 1860 - Iola Leroy...The Shadows Lifted), was also very active in the Underground Railroad in 1853.
Catherine Harris, (1809-1907), operated an Underground Railroad station in Jamestown, New York, (beginning in 1835), for 25 years.
Harriet Tubman, Frances E. Harper, and Catherine Harris are three black history people who engineered the secret success of the Underground Railroad.