0 Do you know your Black History as well as Joe?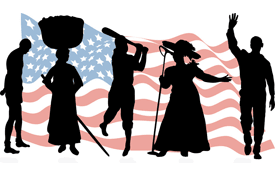 Cedar City, Utah's Joe Baker teases your head with this tough brain buster black history quiz he's prepared...
Questions:
1. Which political party was founded in 1854 for the purpose of ending slavery?
2. Who said "The Republican Party would have the American flag and swastika flying side by side?"
3. Which political party used the 1868 campaign slogan "This is a white man's country: let white men rule?"
4. Who appointed former Ku Klux Klansman Hugo Black to the Supreme Court?
5. Which party did the "Great Emancipator" Abraham Lincoln belong to?
6. Who is the only current member of congress who was once a "Grand Kleagle" in the Ku Klux Klan?
7. In a 2001 interview who said "There are white n--s. I have seen a lot of white n--s in my time?"
8. What percent of Democrats voted for the Thirteenth Amendment that made slavery unconstitutional?
9. Who deployed the 82nd Airborne to desegregate Little Rock Schools over the resistance of democratic Gov. Orval Faubas?
10. Who first used the "Willie Horton" issue against Michael Dukakis?
11. Which senator led a 14-hour filibuster to delay the 1964 Civil Rights Act?
12. Who ended this filibuster allowing passage of the CRA?
13. Which party cast the highest percentage of votes for the 1964 CRA?
14. What percent of Democrats voted for the Fourteenth Amendment guaranteeing equal protection?
15. Which president said "it is all so terribly true" after a private screening of D.W. Griffith's racist film, "Birth of a Nation?"
16. Which party did the first black U.S. House member and first black U.S. Senator belong to?
17. Who appointed the first black 4-star Air Force and Army generals?
18. Who appointed the first black National Security Advisor?
19. Who appointed the first and second black Secretaries of State?
20. Who said that it gave him "psychological gratification" to spit into the soups and salads of white customers while he worked as a waiter?
21. A 2005 blog contained a racist parody of a black U.S. Senate candidate in minstrel makeup and exaggerated lips with the caption: "I's Simple Sambo and I's running for the Big House." An official party Web site linked to this blog. Name the candidate and Web site.
Answers:
1. Republican
2. NAACP Chairman Julian Bond
3. Democratic
4. Democratic president FDR
5. Republican
6. Democratic WV senator Robert Byrd
7. Robert Byrd again
8. Democrats: House 22 percent; Senate 37 percent; Republicans 100 percent
9. Republican President Eisenhower
10. Al Gore Jr., 1988 Democratic primaries
11. Democrat Al Gore, Sr.
12. Republican Sen. Everett
13. Republicans 80 percent, Democrats 64 percent
14. Not one congressional Democrat voted for it vs. 94 percent of Republicans
15. Democratic President Woodrow Wilson
16. Republican
17. Republican President Reagan
18. Republican President George H.W. Bush
19. Republican President George W. Bush
20. Jesse Jackson
21. Maryland U.S. Sen. candidate Republican Michael Steele; the link was on the official Web site of the Democratic Senatorial Campaign Committee.
In addition, a DSCC staffer recently pleaded guilty to fraudulently obtaining Steele's credit history. DSCC Chairman Sen. Charles Schumer refuses to apologize for the link or stolen credit history.
----------
Ok, Joe has put together a whale of a quiz. It's the real deal. He's done his homework.
You say you're ready for more!...then check out some more questions. You can choose from a variety of different genres, and rate the questions, in our own online collection of black history quizzes we've created.