0 Iconic African Americans in Philadelphia Go Digital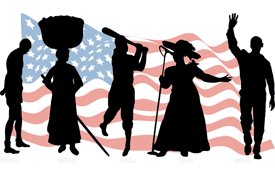 Audacious Freedom, African Americans in Philadelphia, 1776 - 1876, is a modest sized but creative new 2009 black history exhibit with a focus on 18th and 19th Century City of Brotherly Love legends.
The African American Museum in Philadelphia, (just a block away from the National Constitution Center), is hosting this new permanent exhibit which opened on Juneteenth.
On a recent Sunday, I toured the galleries and was pleasantly surprised by the electrified presence of 10 symbolic representatives of the era, who tell their stories in the first person, through the magic of digital video technology.
Here is Octavious V. Catto, the post Civil War Philadelphia educator, talking to his audience.
Each of the 10 historical figures recreated by actors comes alive in life-sized high definition screens. Visitors can press buttons on the kiosks to interact with the personalities who talk about the issues of their day.
Kids have their own special area of the presentation allowing them to interact with the exhibit and experience how post Civil War kids connected with day-to-day living.
According to AAMP President and CEO Romona Riscoe Benson, "Audacious Freedom gives us the opportunity to celebrate the richness of the culture and experiences of people of African descent."
Although the video elements are a highlight of the exhibit, visitors can still view traditional pictures, artifacts, and timelines documenting the rich contributions African Americans have made to Philadelphia's important history.
Visit aampmuseum.org for more information.