0 Let Freedom Sing: Songs from the Movement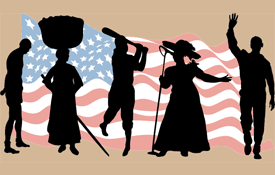 If you missed the live 2010 White House Celebration of Music from the Civil Rights Movement, here's the next best thing.
In January, 2009, Time Life released Let Freedom Sing: The Music of the Civil Rights Movement.
The outstanding 3 CD box set includes 2 pages of provocative liner notes written by Public Enemy front man Chuck D.
His comments are part of a large, colorful, 40 page booklet that includes lots of facts about all the songs.
Chuck says "there's a reason why listening to the past 100 years of black music can bring a sense of voice, sound, meaning, joy, and pain...as well as a historical timeline."
He adds "way before an iPod, these songs rang in my head as they navigated me through my near half a century of life."
What's great about this collection is the representation of each of the post 1930 - 20th century decades.
Historical facts acknowledging key years pertaining to the civil rights movement are also included in their own highlighted paragraphs weaved between the elaborate music notes.
The Southern Sons kick things off on disc one with "Go Down Moses," recorded in 1941.
Six of the tracks are from the 1930's and 1940's. Four are from the 1950's, including Nat King Cole's stirring 1956 classic "We Are Americans Too."
As you'll see from the track list below, no decade is left out. The best songs from the civil rights movement are included.
There are some excellent alternative versions rather than hits you might expect.
Otis Redding, not Sam Cooke sings "A Change is Gonna Come." Bob & Marcia, not Nina Simone sings "Young, Gifted, and Black."
The liner notes have all the back-stories about why these versions were selected.
Watch our 90 second video to hear clips of 3 of the songs.
Let Freedom Sing: The Music of the Civil Rights Movement:
Disc One
"Go Down Moses" - The Southern Sons, 1941
"Strange Fruit" - Billie Holiday, 1939
"Uncle Sam Says" - Josh White, 1941
" No Restricted Signs" - The Golden Gate Quartet, 1947
"Black, Brown, and White" - Brownie McGhee, 1947
"The Hammer Song (If I Had a Hammer)" - The Weavers, 1949
"The Death of Emmett Till" parts 1 & 2 - The Ramparts, 1955,
"When Do I Get To Be Called A Man" - Big Bill Broonzy, 1955
"The Alabama Bus" - Brother Will Hairston, 1956
"We Are Americans Too" - Nat King Cole, 1956
"Why Am I Treated So Bad" - The Staple Singers, 1966
"I Shall Not Be Moved" - The Harmonizing Four, 1959
"Oh Freedom" - Harry Belafonte, 1959
"Ride On, Red, Ride On" - Louisiana Red, 1962
"Mississippi Goddam" - Nina Simone, 1964
" Blowin' In The Wind" - Bob Dylan, 1962
"We Shall Overcome" - Mahalia Jackson, 1963
"Too Many Martyrs" - Phil Ochs, 1964
"Alabama Blues" - J. B. Lenoir, 1965
"Our Freedom Song" - The Jubilee Hummingbirds, 1965
"A Change Is Gonna Come" - Otis Redding, 1965
Disc Two
"Forty Acres and A Mule" - Oscar Brown Jr., 1965
"People Get Ready" - The Impressions, 1965
"Nobody Can Turn Me Around" - The Mighty Clouds of Joy, 1966
"I Wish I Knew (How It Would Feel To Be Free)" - Solomon Burke, 1968
"Respect" - Aretha Franklin, 1967
"The Motor City is Burning" - John Lee Hooker, 1967
"Cryin In The Streets" part 1 - George Perkins & The Silver Stars, 1968
"Abraham, Martin, and John" - Smokey Robinson & The Miracles, 1969
"The Prayer" Ray Scott, 1970
"Say It Loud - I'm Black and I'm Proud" part 1 - James Brown, 1968
"And Black is Beautiful" - Nickie Lee, 1968
"Sock It To 'Em Soul Brother" - Bill Moss, 1969
"Why I Sing The Blues" part 1 - B.B. King, 1969
"I Don't Want Nobody To Give Me Nothin (Open Up The Door, I'll Get It Myself)" part 1 - James Brown, 1969
"Stand!" - Sly & The Family Stone, 1969
"Message From A Black Man" - The Temptations, 1969
"Is It Because I'm Black" - Sly Johnson, 1969
"I Was Born Blue" - Swamp Dogg, 1970
"Yes, We Can" part 1 - Lee Dorsey, 1970
"We the People Who Are Darker Than Blue" - Curtis Mayfield, 1970
"Young, Gifted, and Black" - Bob & Marcia, 1970
Disc Three
"The Revolution Will Not Be Televised" - Gil Scott-Heron, 1971
"(For God's Sake) Give More Power To The People" - The Chi-Lites, 1971
"Smiling Faces Sometimes" - Undisputed Truth, 1971
"Inner City Blues (Make Me Wanna Holler)" - Marvin Gaye, 1971
"Hercules" - Aaron Neville, 1973
"Get Up, Stand Up" - Bob Marley and The Wailers, 1973
"Fight The Power" part 1 - Isley Brothers, 1975
"Give The People What They Want" - O'Jays, 1975
"Black Is Black" - Jungle Brothers, 1988
"Sister Rosa" - The Neville Brothers, 1989
"The Pride" - Chuck D., 1996
"Unity" - Sounds of Blackness, 2005
"None of Us Are Free" - Solomon Burke, 2002
"Eyes On The Prize" - The Sojourners, 2007
"Down In Mississippi" - Mavis Staples, 2007
"Free At Last" - The Blind Boys of Alabama, 2008
As you can see, this 3-disc box set is excellent. Don't know some of the artists? Discover the songs by checking out Let Freedom Sing: The Music of the Civil Rights Movement.