0 Patient Nurses Contribute Healing to Black History Story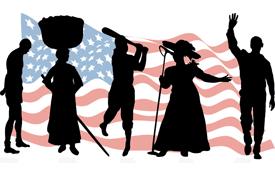 Health care has had a long history of participation by blacks, although years ago, the professional opportunities were limited.
Let's look through the pages of Empower Encyclopedia and BlackHistoryPeople.com to discover three black history people who moved nursing forward.
Mary Elizabeth Mahoney, (1846-1926), is credited with being the first African American to graduate with a diploma in nursing. In 1879, she received her degree from the New England Hospital in Boston.
Dr. Daniel H. Williams, (1856-1931), founded the first medical training school for African American nurses. Dr. Williams also opened the first interracial hospital in 1891 (Provident Hospital in Chicago, Illinois, USA).
Hazel W. Johnson was Chief Nurse for the Army Medical Command in Korea. As a Brigadier General she headed the U.S. Army Nurse Corps. Johnson was the first African American woman to obtain the rank of General.
Need an idea for a Black History Month project? Give Mahoney, Williams, and Johnson a further look.
The need for nurses is at an all-time high. These trailblazers made significant contributions to nursing, a field that can barely keep up with today's growing demand.