0 The Best Way to Discover Black History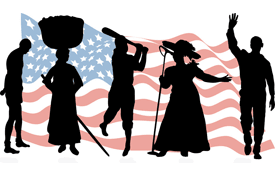 Today, everyone seems to receive their 15 minutes of fame, whether they deserve it or not. Our memories are short, so it's good to be reminded from time to time about true originals who created their own models for success.
For this reason alone, the information that circulates during Black History Month is well worth keeping in front of global audiences.
Do you know someone who lacks a depth of knowledge about African American contributions?
I certainly do, that's why we all can benefit from the focused stories about black history people during the month long February celebration.
I remember taking Asian/African history as an elective while a senior in high school, a course quite rare at the time. Lerone Bennett Jr.'s book, Before the Mayflower, one of the main textbooks in the course, opened up a new world inside of my sixteen year old mind.
Philadelphia, Pennsylvania is now the first major city in the USA requiring a course in black history as a graduation requirement for all high school students.
Here's a not so surprising revelation: some of the teachers in Philly observe that they are learning more than they think they've taught (about significant African American contributions) to their students.
The Philadelphia initiative is not without controversy, as debate continues about the value of segmenting black history into a box, at the expense of a multicultural approach.
All cultures can benefit from the experiences of others, we just have to respect what others bring to the table too.
Expanding our approach to consuming black history breaks apart what I call the one dimensional mold - that of viewing the center of past African American history as just social crusades by select individuals against discrimination.
So how do you soak in more stimulating ideas from diverse history makers while relaxing stress free at the same time? How do most people do it? How do you do it? For some, it's reading. For others, it's listening, For most, it's watching - because all of our senses are activated when the visual eye is in the lead.
Subscribe to our YouTube Channel, and watch the yearly Black History Month videos we have posted to the home page at BlackHistoryPeople.com.