0 Buddy Miles Tribute
by

Kingsley H. Smith

02/28/2008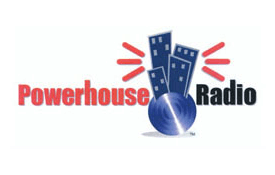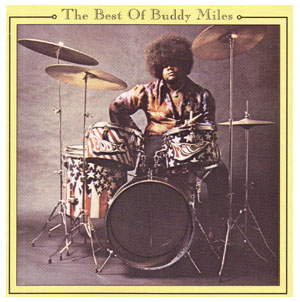 Drummer Buddy Miles passed away Wednesday, February 27, at the relatively young age of 60.
Caught in the middle between the musical implementation of pure soul and progressive rock, Miles in his heyday never received the credit he deserved as a creative solo artist.
Radio programmers back in the day could never figure out if his music was appropriate to play for their particular audiences.
Buddy Miles was all about fusing soul, blues, pop, and rock into a unique blend of driving hardcore rhythms.
In 1967, Buddy, working his way up the musical ladder, joined "Wicked" Wilson Pickett's touring band as the drummer. Soon after, guitarist Mike Bloomfield recruited Miles for the seminal horn-funk-blues group, The Electric Flag.
The Buddy Miles Express debuted in 1968 with the album, Expressway to Your Skull. I used the instrumental track "Funky Mule" from that album as my first and only theme song for a few years when I first started out in radio.
Jimi Hendrix and Buddy Miles had quite a few collaborations together, beginning in 1968 - 1969. Hendrix wrote the liner notes on Expressway to Your Skull, and produced "Miss Lady" from the 2nd Miles album Electric Church.
Hendrix also produced the unreleased version of the instrumental "69 Freedom Special," (that does appear on The Best of Buddy Miles) CD.
Miles continued to experiment as he moved on to Band of Gypsys with Hendrix and bassist Billy Cox. I saw their only Madison Square Garden New York City performance live on January 28, 1970.
Unfortunately, what I remember was not positive, as Miles, Hendrix, and Cox only performed a couple of songs. Hendrix "went on strike" after a couple of songs and stormed off the stage because of some disagreement.
Miles and Hendrix recorded the classic jazz-rock "Rainy Day Dream Away" and "Still Raining Still Dreaming" from Hendrix's historic double LP Electric Ladyland.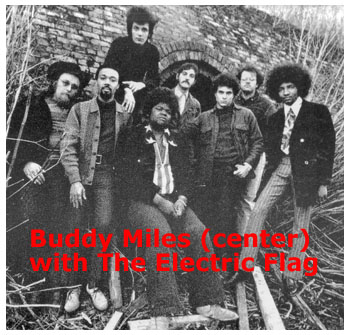 I genuinely enjoyed Buddy's solo albums, as they always contained several stand out tracks.
The PowerhouseRadio.com music vault contains 7 of his solo vinyl albums, plus A Long Time Comin' by The Electric Flag.
I suppose I should mention that Buddy Miles was the voice of the California Raisins, an animated cartoon used to promote the raisin industry in the 1970's.
Miles was a very good singer - as soulful as the best of his day.
In 1994, Buddy Miles reformed the Express and recorded an album for Rykodisc.
I was asked if I wanted to interview Buddy in 2007. Unfortunately, we could not sync-up our schedules, so I ultimately passed. Now I'm sorry I missed the opportunity.
Luckily, I did have the chance many years ago to talk with Buddy Miles live at The Bottom Line club in New York City and record the conversation when I was a student at New York University.
Below is 90 seconds of the longer instrumental "Funky Mule" from the Buddy Miles Express album Expressway To Your Skull recorded in October, 1968 and released later that year. Featured on guitar, Jim McCarty (who previously played with Mitch Ryder and The Detroit Wheels).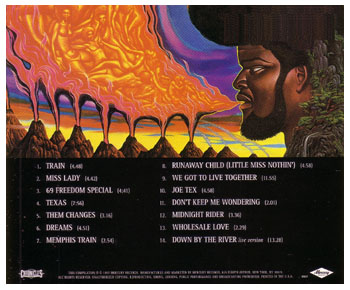 If you are not familiar with Buddy Miles, a great place to start is the CD, The Best of Buddy Miles.
It includes his only bonafide hit, "Them Changes."
Take a listen to 90 seconds of the much longer "Funky Mule," and enjoy the Buddy Miles groove. Check out his relentless percussive persuasion.
Here are my picks for the top 5 songs that showcase Buddy Miles:
"Runaway Child"
"Power of Soul" (Band of Gypsys)
"Rainy Day, Dream Away" & "Still Raining, Still Dreaming" (guest with The Jimi Hendrix Experience)
"69 Freedom Special"
"Take It Off Him and Put It On Me"
Although the original album version is better (same version on The Best of), here's a great showcase of the powerful "brassy" horn sound of the Buddy Miles Band doing "Runaway Child" live on Finland television in 1971!
The Finn fans are shy. Buddy tries to get them to party!