0 Black History Tuskegee Airmen Honored with Congressional Gold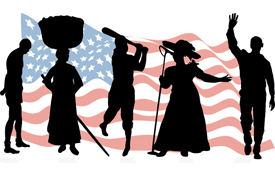 The Tuskegee Airmen received the Congressional Gold Medal from President George W. Bush on March 29, 2007.
The Congressional Gold Medal is the highest civilian honor given by the U.S. Congress.
Tuskegee airman Dr. Roscoe Brown, a former commander of the 100th Fighter Squadron, 332nd Fighter Group, thanked President Bush, the House, and the Senate for "voting unanimously to award this medal collectively to the pilots, bombardiers, the navigators, the mechanics, the ground officers, the enlisted men and women who served with the Tuskegee Airmen."
Retired Lt. Col. Alexander Jefferson, a pilot with the 332nd Fighter Group also addressed the crowd gathered at the U.S. Capitol.
The Tuskegee Airmen were an elite group of African American pilots in the 1940s. They were black history pioneers in equality and integration of the U.S. Armed Forces.
According to U.S. Army Airman Brian Butkus, 375th Airlift Wing, "Tuskegee Airmen" refers to anyone involved in the Army Air Corps program to train African Americans to fly and maintain combat aircraft.
Butkus confirms that The Tuskegee Airmen included:
Pilots
Navigators
Bombardiers
Maintenance and support staff
Instructors
All personnel who kept the planes in the air.
Most service-member flight training took place at the Division of Aeronautics of Tuskegee Institute.
Air Corps officials built a separate facility at Tuskegee Army Air Field to train the pilots. The Tuskegee Airmen not only battled enemies during wartime but also fought against racism and segregation.
Racism was common during World War II. Many people did not want blacks to become pilots.
By the end of World War II, 992 men had graduated from pilot training at Tuskegee; 450 were sent overseas for combat assignment, and about 150 lost their lives while in training or on combat flights.
On November 6, 1998, President Bill Clinton approved Public Law 105-355, which established the Tuskegee Airmen National Historic Site at Moton Field in Tuskegee, Alabama, to commemorate and interpret the heroic actions of the Tuskegee Airmen during World War II.
* special thanks to the U.S. Army for providing some of the official background information.