0 Out of Touch with History Highlights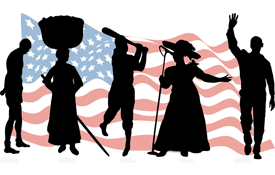 USA teens are out of touch with not just African American history, but with history and traditional culture in general.
Common Core, an advocacy group pushing for the teaching of more liberal arts in schools, released the shocking report today as reported in USA Today.
Out of 1,200 17 year-olds surveyed, only 43% knew that the Civil War was fought between 1850 - 1900.
30% did not know that President John F. Kennedy said, "Ask not what your country can do for you; ask what you can do for your country."
It's troubling that real history is taking a back seat to the more seedy elements of today's popular culture. Most teens and adults are experts in the gossipy news of today.
As Black History Month comes to a close, it's time to renew our commitment to real knowledge that matters, across cultural and ethnic divides.
A trivia question as a final thought. In 1976, U.S. representative Barbara Jordan became the first African American to give the keynote address to a national party convention. Who gave the keynote address to the Democratic National Convention in 2004?
Leave your answer in a comment!