0 The Story of America's Black Patriots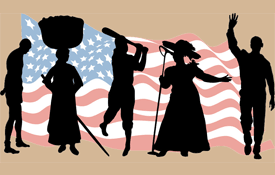 In the 20th Century when the United States declared war against Germany, Dr. Louis T. Wright enlisted in the US Army.
In 1918, he was on the front lines in St. Die, France.Dr. Wright, (1891-1952), excelled in the field of medicine and brain trauma. He is the author of nearly 20 academic papers about brain surgery.
He graduated from Clark University in Atlanta in 1911. Dr. Wright graduated from Harvard Medical School in 1915.
For Love of Liberty: The Story of America's Black Patriots features an excellent profile of Dr. Wright, along with 28 other significant African Americans who served their country in the armed forces.
You'll also find profiles about specific marine regiments, infantry divisions, airborne divisions, and cavalry divisions.
The educators section of the For Love of Liberty website offers valuable pdf downloads for college and high school facilitators.
As the authors of this collection express, "The lessons that can be learned in For Love of Liberty: The Story of America's Black Patriots aren't found in textbooks," and that's a shame!
More black history military connections can be found at the website dedicated to late master diver Carl Brashear, whose life story was told in the popular 2002 movie Men of Honor.
2018 update: The original For Love of Liberty website is missing in action, but the DVD and For Love of Liberty audio soundtrack are still available.