0 Brian McKnight Comes Home for Christmas
by

Kingsley H. Smith

11/20/2008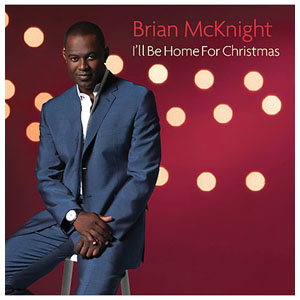 Brian McKnight fans, Rejoice! B.M. has just released his 2008 holiday chestnut, I'll Be Home For Christmas, his 11th album.
Brian cheerfully reports at BMcKnight.com that "Christmas has always held a very special place in my life and my heart."
"When it arrives, it brings with it memories of the past and the promise of a future of memories with friends and family all over the world."
5 of the 12 tracks on I'll Be Home For Christmas feature duets with Vince Gill, Josh Groban, Nikolas McKnight, Noel Schajris, and Take 6.
"The Christmas Song" kicks of the collection. McKnight gives the spunky arrangement his best - keeping the vocal range in his trademark higher register.
When it comes to inflecting passion into his actual singing sound, McKnight has always been a vocalist who shines in the understatement. You won't mistake his articulated sonic discipline to the flashy nature of a Luther Vandross or Marvin Gaye.
McKnight has built a solid following over the years. He now slots himself into mature R&B territory that young guns Chris Brown, Ne-Yo, Akon, and Usher can't quite occupy yet.
As for the other tracks on this new release, cut 2 "Silver Bells" chimes to McKnight's clear, measured resonance.
In a departure, "Christmas You and Me" teams Brian with Vince Gill. This track, grounded in R&B, has contemporary country music overtones, and succeeds nicely in the way Lionel Richie's 1986 "Deep River Woman" duet with Alabama did.
"Let It Snow," also featuring Nikolas McKnight, is bright, frothy, and bubbly with an ample supply of strings to delight the light hearted.
"It's the Most Wonderful Time Of The Year" packs a powerful jazzy punch. It's the best uptempo track of the collection.
Overall, the mood is mellow on the I'll Be Home For Christmas album. The CD has a 'quiet storm' tone, with enough energy in the uptempo songs to provide good balance.
Piano builds the foundation of the classy instrumentation. These songs are well arranged.
Even if you are not a Brian McKnight fan, you probably will be pleased with this charming Christmas CD.
Spread the news: "Brian McKnight Comes Home for Christmas!"
I'll Be Home For Christmas:
"The Christmas Song"
"Silver Bells"
"Let It Snow" (featuring Nikolas McKnight & Brian McKnight Jr.)
"Christmas You And Me" (featuring Vince Gill)
"I'll Be Home For Christmas"
"Silent Night"(featuring Noel Schajris)
"It's The Most Wonderful Time Of The Year"
"Adeste Fideles"
"Who Would Have Thought"
"Angels We Have Heard On High" (featuring Josh Groban)
"Christmas Medley"
"Bless This House" (featuring Take 6)