0 Lionel Richie Tuskegee
by

Kingsley H. Smith

04/17/2012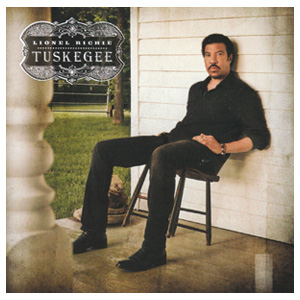 As a solo artist Lionel Richie has always playfully stuck his toe in country music.
He's been charmed by the genre recording past duets with both Alabama and Kenny Rodgers.
Tuskegee is a bold experiment that was ultimately successful as it rode it's way to the top of the Billboard charts. Each song on the album is a 'glory days' Richie original.
His partners on this project make up a who's who of country. Lionel brings a contemporary touch to these old songs to rejuvenate them more time.
"You Are" with Blake Shelton
"Say You, Say Me" with Jason Aldean
"Stuck on You" with Darius Rucker
"Deep River Woman" with Little Big Town
"My Love" with Kenny Chesney
"Dancing on the Ceiling" with Rascal Flatts
"Hello" with Jennifer Nettles
"Sail On" with Tim McGraw
"Endless Love" with Shania Twain
"Just For You" with Billy Currington
"Lady" with Kenny Rodgers (new version)
"Easy" with Willie Nelson
"All Night Long" with Jimmy Buffet & Coral Reefer Band
All of the country 'A' listers are here. The song arrangements respect the originals but discover some new territory through the fusion of two classic musical cultures that share similar emotions.
I enjoyed all of these songs, especially "Endless Love" with Shania Twain. Whether it's Richie with Diana Ross, or Luther Vandross with Mariah Carey, "Endless Love" is hard to break.
Honorable mention goes to "Lady" as Richie and Kenny Rodgers recreate the harmonic magic one more time to update their big hit. "Sail On" with Tim McGraw is pretty cool too!