0 Prince heads to U.K. with 21 Nights Music Tour to Save Planet Earth
by

Kingsley H. Smith

06/19/2007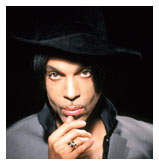 20 years ago in the Spring of 1987, Prince's "Sign of the Times" was a #1 R&B hit.
The reincarnation of the unpredictable Prince continues to pick up momentum right now in 2007.
His next album, Planet Earth, is scheduled for release on Tuesday, July 24.
Prince will perform 21 shows in 21 nights later this Summer during his London, U.K. tour at the new O2 Arena. Here are the official dates:
August: Wednesday 1st, Friday 3rd, Saturday 4th
August: Tuesday 7th, Friday 10th, Saturday 11th
August: Tuesday 14th, Friday 17th, Saturday 18th
August: Friday 24th, Saturday 25th
August: Tuesday 28th, Friday 31st


September: Saturday 1st
September: Thursday 6th
September: Sunday 9th, Wednesday 12th, Thursday 13th
September: Sunday 16th, Thursday 20th, Friday 21st
The first 15 shows sold out in just hours, so the promoters added another 6 shows. Tickets went on sale this past Friday, June 15th for the final 6 London performances.