0 Tavares Supercharged
by

Kingsley H. Smith

10/12/2017
Tavares, five brothers from New Bedford, Massachusetts were hard working harmony kings featuring a halo of heavyweight hits glowing from their song crown resume.
Arthur, Ralph Vierra, Perry Lee, Antone, and Feliciano are the Tavares brothers. In the late 1960s they performed as Chubby (who is Antone) & The Turnpikes.
"Check It Out" was their first R&B hit in 1973. For the album Hard Core Poetry in 1974, Tavares hooked up with producers Dennis Lambert and Brian Potter who had revived the career of The Four Tops.
The Tavares - Lambert & Potter team found success off of Hard Core Poetry with these hits:
"Too Late" #10 R&B in 1974
"Remember What I Told You To Forget" #4 R&B in 1975
"She's Gone" (see below)
Claiming territory at the top of the R&B charts, they had three #1 hits:
"She's Gone" 1974 (written by Hall & Oates who didn't have a hit with the song until 1976)
"It Only Takes A Minute" 1975
"Whodunit" 1977
In The City (1975 album below) contains "It Only Takes A Minute," "The Love I Never Had," and "Free Ride."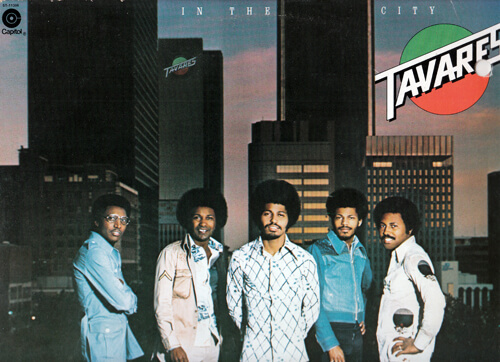 "Heaven Must Be Missing An Angel" (below) was a #3 R&B hit in 1976. It's from the album Sky-High produced by hit maker Freddie Perren (Peaches and Herb, The Sylvers, The Miracles, Jackson 5, Gloria Gaynor and others).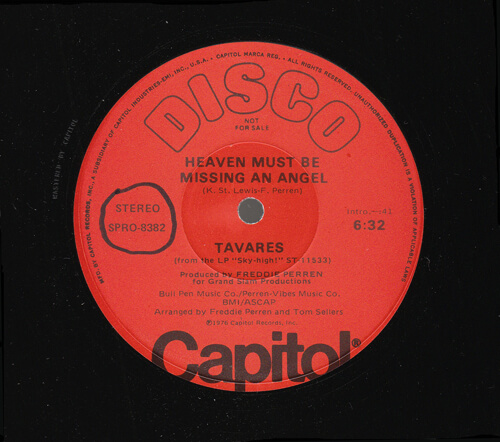 The hits kept coming for Tavares by the end of the 1970s. The Bee Gees wrote "More Than A Woman" from the Saturday Night Fever soundtrack (December 1977) for Tavares.
Here are two more Tavares albums.
From 1982's New Directions you'll find two songs that made it to the R&B top 25, "Got To Find My Way Back To You" #24 in 1983, and the lovely "A Penny For Your Thoughts" #16 in 1982.
Listen to 34 seconds of "A Penny For Your Thoughts" written by Kenny Nolan and co-produced with Jay Senter.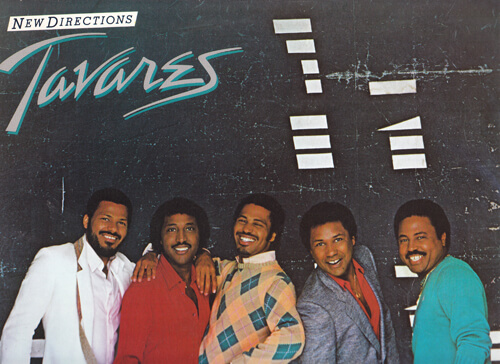 The title track from Words And Music (below) reached #29 R&B in late 1983.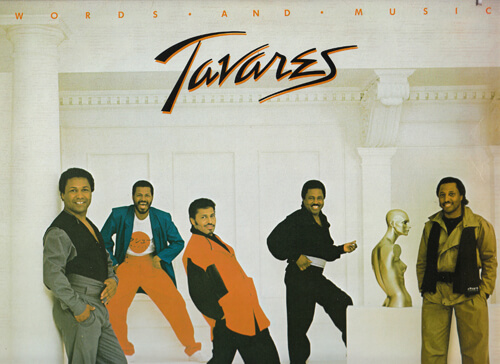 In 1979, Tavares teamed up with producer Bobby Colomby (drummer for Blood, Sweat & Tears) for the stylish, jazzy, and somewhat hypnotic rhythm track on the #10 R&B hit "Bad Times."
Colomby also worked with keyboard guy Bob James who may be playing on this song.
Tavares delivers a lyric with a message on "Bad Times." The vocals shine on the track. The score is a fusion of soulful pop orchestration.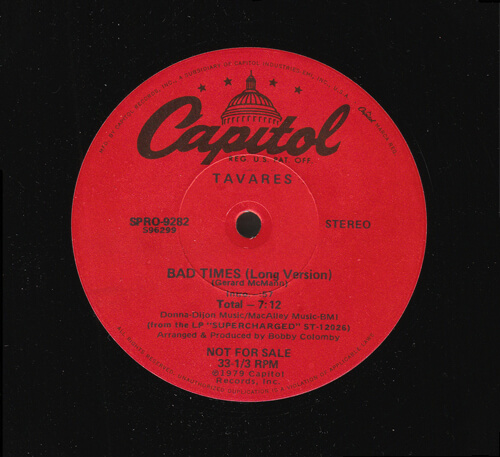 Hats off to Tavares who were able to change with the times, update their style, and stay relevant across the musical landscape. As hitmakers their track record is undeniable.