0 Tina Turner Time
by

Kingsley H. Smith

10/16/2008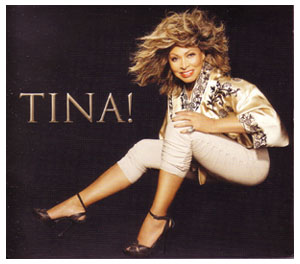 As Tina Turner chugs along with her 2008 world tour, she's dropped another greatest hits collection into the music pipeline.
Tina! was released on September 30th.
Tours sell archives, so having some "fresh" material in the marketplace generates sales.
You'll find many of these songs on other "best of Ike & Tina Turner" anthologies. A nice exception is the inclusion of 3 powerful live tracks that brighten the compilation.
As for the studio recordings, "Proud Mary" is a newer somewhat sedate 1993 version without the presence of Ike. "Nutbush City Limits," updated in the 1990's with a dance floor groove, uses the classic 1973 Ike Turner guitar hero mix.
The magnificent "Private Dancer" appears in a short 4 minute version, rather than the 7 minute original from 1984.
Two hit movie themes add some depth: 1985's "We Don't Need Another Hero" from Mad Max Beyond Thunderdome, and Tina's 1995 James Bond theme "Goldeneye."
A couple of brand new songs, "It Would Be A Crime" and "I'm Ready" round out the CD as the final two tracks. "It Would Be A Crime" is the stronger of the two.
Tina!
"Steamy Windows"
"River Deep-Mountain High"
"Better Be Good To Me"
"The Acid Queen"
"What You Get is What You See"
"What's Love Got To Do With It"
"Private Dancer"
"We Don't Need Another Hero (Thunderdome)"
"I Don't Wanna Fight"
"Goldeneye"
"Let's Stay Together" (Live In Amsterdam)
"I Can't Stand the Rain" (Live In Amsterdam)
"Addicted To Love" (Live At Camden Palace)
"The Best"
"Proud Mary"
"Nutbush City Limits"
"It Would Be a Crime" (Bonus track previously unreleased)
"I'm Ready" (Bonus track previously unreleased)