0 Black History Museums VIP Tour Atlanta Georgia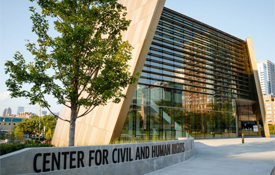 When I visited Atlanta in the late 1990's, there was no Center for Civil and Human Rights for me or other citizens to explore. Thanks to community activists who you'll hear about in this video, the ATL now has a great African American museum to discover.
This is a must attend attraction in the heart of Atlanta. Our Black History Museums VIP Tour continues a delightfully distinctive digital trip across the USA. This is episode 5.
For an interactive app on Android, download Black History Museums from Google Play or Black History Museums from the Amazon App store.
More in the video series:
The Northwest African American Museum in Washington video - Episode 1 of 12
The Idaho Black History Museum video - Episode 2 of 12
The Kansas African American Museum video - Episode 3 of 12
The Birmingham Civil Rights Institute video - Episode 4 of 12
The Harvey B. Gantt Center for African American Arts + Culture Charlotte video - Episode 6 of 12
The National Museum of African American History and Culture Washington, DC video - Episode 7 of 12
The Reginald F. Lewis Museum of African American History & Culture Baltimore Video - Episode 8 of 12
The African American Museum in Philadelphia video - Episode 9 of 12
The Schomburg Center for Research in Black Culture New York, NY video - Episode 10 of 12
The Museum of the National Center of Afro-American Artists Boston video - Episode 11 of 12
The DuSable Museum of African American History Chicago video - Episode 12 of 12