0 Black History Museums VIP Tour Washington DC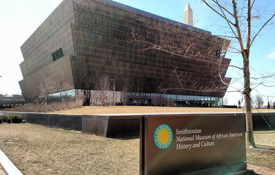 Opening in 2016, The National Museum of African American History and Culture in Washington, DC transcends the boundaries of race. Here, the story is all about the global influence of the African American experience.
Located on the National Mall in Washington, DC, you'll enjoy a spectacular close-up view of the U.S. Capitol, the Washington Monument, and other DC landmarks.
Discover this new DC attraction during the Black History Museums VIP Tour. This is video episode 7.
For an interactive app on Android, download Black History Museums from Google Play or Black History Museums from the Amazon App store.
More in the video series:
The Northwest African American Museum in Washington video - Episode 1 of 12
The Idaho Black History Museum video - Episode 2 of 12
The Kansas African American Museum video - Episode 3 of 12
The Birmingham Civil Rights Institute in Alabama video - Episode 4 of 12
The Center for Civil and Human Rights in Atlanta video - Episode 5 of 12
The Harvey B. Gantt Center for African American Arts + Culture in Charlotte video - Episode 6 of 12
The Reginald F. Lewis Museum of African American History & Culture Baltimore Video - Episode 8 of 12
The African American Museum in Philadelphia video - Episode 9 of 12
The Schomburg Center for Research in Black Culture New York, NY video - Episode 10 of 12
The Museum of the National Center of Afro-American Artists Boston video - Episode 11 of 12
The DuSable Museum of African American History Chicago video - Episode 12 of 12