0 Heatwave Hits
by

Kingsley H. Smith

03/24/2008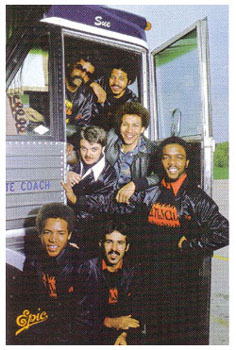 Brothers Johnnie and Keith Wilder were the core of Heatwave, the "Always And Forever" crew, who put together a team of gifted international musicians to deliver some jammin' grooves.
Johnnie and Keith, Dayton, Ohio natives, fine-tuned their classic soul funk in Germany, following a tour of Army duty in the U.S. military.
Positive club exposure in London captured for Heatwave their first record deal.
1976's Too Hot To Handle album, Heatwave's first release, included both "Always And Forever," and the dance classic "Boogie Nights."
Tragically, Johnnie Wilder Jr. passed away in 2006 at age 56, closing a long chapter of success for the original group.
Here's a photo courtesy of announcer DJ Cleo Rowe with Heatwave at radio station WNJR, Newark, New Jersey taken in 1978. The picture is from Cleo's radio archive.