0 Smokey Robinson Writes the Mighty Classics
by

Kingsley H. Smith

03/23/2010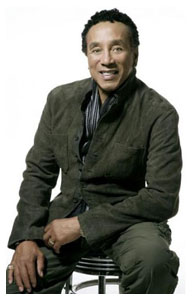 You know you're a great song writer when your catalog of melodies includes hundreds of compositions.
At last count, Smokey Robinson had over 460 songs registered in the official online song databases as author (or co-author).
Without Smokey, how would Motown have had all of those early hits?
Let's not even mention the scores of artists who have covered his songs.
"Ain't That Peculiar," Marvin Gaye and George Clinton. "My Girl," the Temptations and the Whispers. "Tears of A Clown," the Miracles and Shalamar.
One of your all-time favorites might just be a Smokey Robinson song.
When it comes to love and romance, the pen of 'Bill' William 'Smokey' Robinson is number one.