0 The Jacksons are Joyful about New Icon Honor
by

Kingsley H. Smith

10/09/2008
Performing Rights organization BMI represents more than 375,000 songwriters, composers, and publishers with more than 6.5 million works.
At their September, 2008 Urban Music Awards in Los Angeles, the Jacksons were honored with the BMI Icon Award.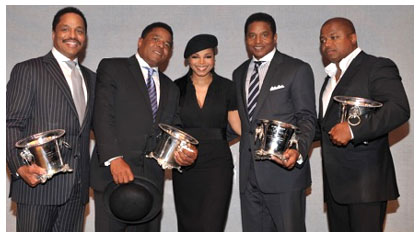 Marlon, Tito, Janet, Jackie, & Randy Jackson (left to right). Where's Michael and Jermaine? (missing in action!)
Here's a portion of what BMI's had to say about the Jacksons in capturing their tribute:
"One of pop music's most influential quintets, The Jacksons blazed a trail for R&B and pop music, creating a sound and musical image that is emulated to this day."
"Hailing from Gary, Indiana, and formed in 1966, the Jackson brothers' Jackie, Tito, Jermaine, Marlon, Michael and, joining in 1976, younger brother Randy were a true American success story, transcending race and redefining the sound of pop and R&B music."
"They were the first group to have their first four singles hit number 1, and they remain one of the most globally influential pop and R&B groups in history."
"The Jackson 5 were inducted into the Rock and Roll Hall of Fame in 1997."