0 20 Years of African American History Apps
by

Kingsley Hugh Smith

03/19/2018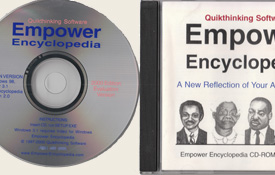 With an interest in the subject material since high school, I pitched the theme to my adviser as a capstone project during graduate school. He said no to the idea, but I went ahead anyway to create and complete the digital reference you'll discover more about in the video below. We knew this project would have value. App research was done between 1993 - 1998. After 5 years, Empower Encyclopedia CD-ROM was completed in the spring of 1998.
A little bit more background about us. Quikthinking Software was registered as a trade name in 1989, a year after we graduated from college. We released our first non-history business app in 1993.
The venue in the featured video: the America's Center, St. Louis for the 7th Annual Missouri Black Expo in August, 1998.
I programmed Empower Encyclopedia for Windows using the Visual Basic language/software development kit. We pulled the CD-ROM off the market in 2005, as cell phone app excitement was really beginning to pick up speed in the market place.
Today, a significant portion of Empower Encyclopedia lives online at BlackHistoryPeople.com and in some of our Android and IOS apps.
In 2018, we celebrate 20 Years of African American History App publishing.