0 7 Free Black History Resources for Your Phone or Tablet
by

Kingsley Hugh Smith

02/04/2021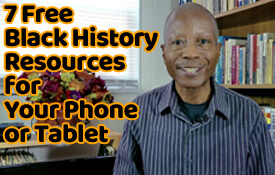 Celebrate Black History Month anytime with 7 FREE Black History Resources for Your Phone or Tablet from Quikthinking.com.
We shared this video on our Facebook page and YouTube channels. We wanted to share it with you here.
There's also a 2nd video 4 Black History Resources for Your Phone or Tablet below.
Every February in the USA we spotlight the stories of famous or unsung African American people you may or may not know. Our portfolio of mobile apps tells these stories year-round.
Not every app in our development universe shines a light on African Americans, but our commitment to Black History is a major part of our focus 12 months a year and not just when everyone else gets the spirit in February.
Watch me count down the 7 apps in this relatively short 3 minute video from #7 to #1. So grab the FREE apps and share the experience.
Video #2 at the bottom of the page is 2 minutes and change. Enjoy. Thank you for your support!