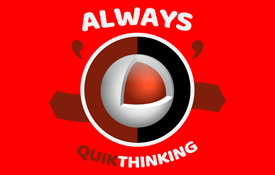 Time for your back to your routine merch. We are Always Quikthinking! Check out our shop and grab some gear. You'll love it!
We waited awhile before offering our fans some logo collectibles. Five years ago, we created and ran a very successful Zazzle shop for a large company. Before that, we created a Cafe Press shop with luke water results for the same company.
Now, it's our own turn with Spreadshirt. Hopefully the 3rd time will be a charm as this time it's for us, and you!
You'll love that you can customize the size of the logo (in black or white) to your liking.
Get a hold of the Always Quikthinking swag you will need: https://shop.spreadshirt.com/quikthinking-swag
I am the male model below this lovely lady...