0 Backpack Bounce App Video: What Kind of Game Is It?
Did you know that Match 3 Games are the most popular mobile games in the world? We have six of them in the app stores responsible for thousands of downloads across Android and iOS.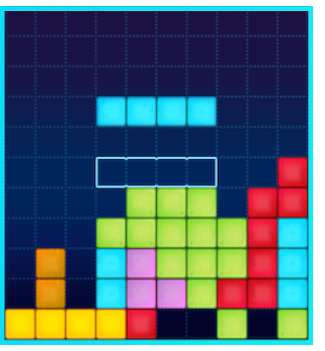 Modern match 3 game design is patterned after the trend setting 1984 game Tetris. This image is an example of a Tetris game.
The Tetris challenge features horizontal rows and vertical columns of equally sized blocks.
As blocks fall down from the top of the game screen, players move the blocks from left to right (or rotate them) to score.
The early home for Tetris was on the Commodore 64 and IBM PC computers.
Next to jump on board was Atari (1988). In 1989, Nintendo added the game to their hand-held Game Boy portfolio.
Most match 3 games evolved using this familiar row and column layout with the following gameplay rules...
You the player either swipe to move images up, down, left or right to create three or more matches.
A second style allows you to just touch your screen without swiping to score matches.
We've used both approaches.
Our first match 3 games were developed using LibGDX, an open-source game-development app framework written in the Java programming language with some C and C++ components.
C and C++ are two to the world's most popular programming languages.
We switched to the software development tool kit Unity for our latest match 3 games.
Our two most successful match 3 games are Thanksgiving Match 3 (Unity) and Thanksgiving Retro Match 3 (B4A - Basic for Android SDK).
Xcode (SDK software development kit) is used for our iPhone and iPad versions.
In addition to the Thanksgiving games, players agree that all of our other match 3 mobile games are fun to play. Here's what you've said...
----------
"Just incredible...!! Superb visuals, smooth as butter...and very addictive... fun to play" - Ashish Kachrola (Thanksgiving Match 3)
"Thanksgiving Match 3 game is a really fun game." - Shirley Conners
"Love this on my commute"- Anita Johnson (Pizza Burger Match 3)
"Fun little spaceship game. It's simple but enjoyable to play." - Joe Willmott (Spacehip Match 3)
"The game is very nice, good pastime!" - Adriano Ferraro (Backback Bounce Match 3)
----------
On your phone, tablet, console, computer, laptop or other hand-held device, match 3 games grab you and don't let go. That's entertainment!
Watch the video to see non-stop Backpack Bounce Match 3 Game action (with my comments) and grab the free app.