0 Black History Inventors App Reinvented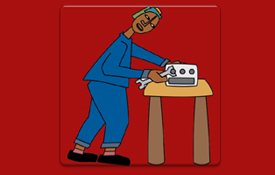 G. Biggs' recent public written comment regarding our inventors project is one an app developer doesn't want to see: "At first, this app was great! But now it keeps shutting down! Seems funny..."
Hugh Smith quote: "As the Android version upgrades keep coming, the old apps stop working."
We started developing and releasing Windows software in the 1990s based on the C and Visual Basic programming languages with one title launched in 1993 (C) and another in 1998 (Visual Basic). By 2011 - 2012, our focus turned to Android mobile apps.
Black History Inventors was one of our first mobile apps in 2012. The structure for the way the app was designed is based on a cookie cutter framework. We all have to start somewhere.
It was clear this app needed re-development, but other projects were ahead in the queue.
Well, a flurry of recent users including G. Biggs have spoken so we took action. As our app development sophistication has now blossomed, we put aside one day to rebuild Black History Inventors from the ground up. We succeeded.
The inside story is that the new Black History Inventors was included as one of four different sections in our 2015 Black History Inventors Quiz app. Inventors is downloaded eight times as often as Inventors Quiz although the Inventors Quiz app user rating is higher.
As programmer and writer Will Bontrager from Willmaster.com recently told me regarding both apps: "some people are more cerebral than others. The less cerebral may have uncomfortable school exam memories associated with the word "quiz."
As we celebrate Black History Month, we are thrilled that we were able to squeeze this long overdue update into our insane schedule.
Watch and listen to the new video at the beginning of this story. Download Black History Inventors from Google Play or the Amazon App stores.