0 Black History People and Picture Puzzle Game
by

Kingsley Hugh Smith

09/14/2023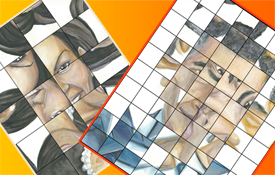 Martin Luther King Jr., the Obamas, Muhammad Ali, Simone Biles, Ralph Ellison, Kamala Harris and scores of others capture the magic in this Black History Picture Puzzle game, an Android exclusive.
It's been updated with new scenes in the latest version. Game controls are also fresh.
Twirl each little block with just a tap to solve the picture puzzles as quickly as you can. The game automatically keeps track of your fastest time to solve a puzzle.
See an example of the easy and hard levels in this quick video.
Tease your brain, get inspired, and connect to the big-time leaders shown in each scene. Jump right into sports, entertainment, government, education, civil rights, activists, writers and more.
They are all in Black History Picture Puzzle game.
---
One of our first Android apps was Black History People. This one paved the way for many of the more sophisticated titles that followed in our Black History series of mobile apps.
Black History People is still one of our most popular titles. Straightforward and simple, close to 100 achievers with their pictures are profiled in this easy to use Android exclusive.
Each of the twelve sections is represented by a picture driven menu to enter the profile sections...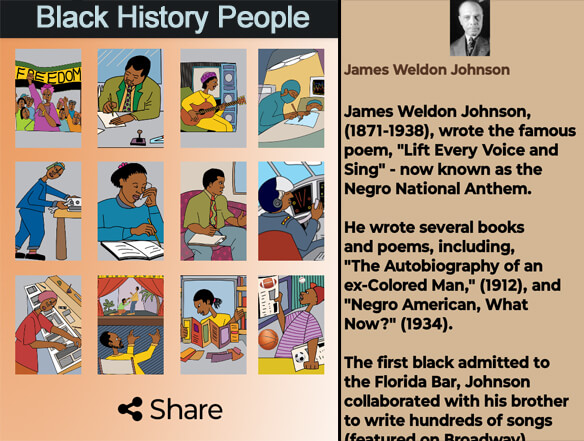 The 12 menu images represent these sections:
Entertainment
Poets
Sports
Writers
Business
Education
Aviation - Space
Inventors
Medical
Music
Civil Rights
Law
You can't lose with either Black History People, or Black History Picture Puzzle game, both for Android.