0 Game Devs of Color Expo 2019 A Success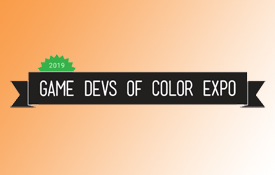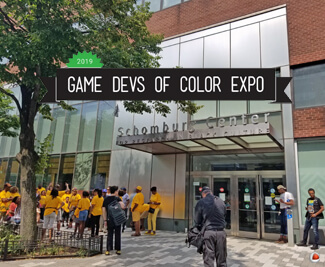 "Summer night in Harlem, man it's really hot..." to quote singer Bill Withers who was right on time describing the Saturday, July 27 heat wave in the neighborhood where Game Devs of Color Expo 2019 took place even though it was sunshine in the daytime.
Indie game developers along with some well known players gathered at the Schomburg Center for Research in Black Culture to mingle, network, and show off some of their creations.
This expo is billed as a safe place for diverse people with diverse project themes to express themselves "without fear of judgment or harassment."
Catt Small @cattsmall (below) is a Senior Product Designer at Esty. She welcomed the approximately 600 in attendance.
Later in the day in the Schomburg auditorium Catt did an excellent presentation on how she developed her web game SweetXheart using the Phaser.io software development kit.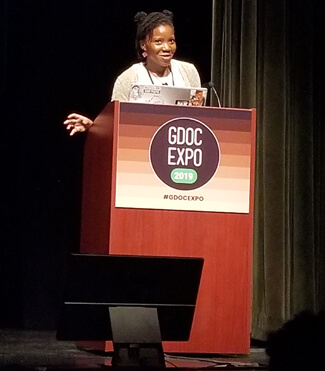 SweetXheart is a "slice-of-life visual novel about microagressions, race, and gender." In the game you act as Kara, a 19-year-old girl from the Bronx who attends an art college and interns at a tech company.
We were very impressed watching several people play the game in a separate area of the expo.
Catt is one of the founding organizers of the Game Devs of Color Expo.
Here I am below hanging out with two members of the Nintendo team. Congratulations if you received one of our AAeMojis app tee shirts that I'm wearing! We gave away quite a few at the expo.
This view is from the second level looking down on one of the three areas where attendees could play lots of developer games.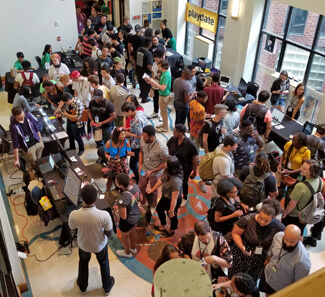 Geneva Heyward @gensuta (below) is a game developer pursuing a BFA at NYU (one of my many alma maters).
Because of the visuals I was attracted to her Windows - Mac - Linux game Skate & Date that is "a roller derby rhythm ga(y)me where you play as Maggie, the lead jammer of the Rockin' Rollergirls" who has a crush on one of her opponents.
Remember roller derby? I loved watching it as a kid. The graphics in this game are simple and straight forward. The story moves along with an element of roll playing using some on-screen visual dialogue to complement the action packed skating scenes.
We also liked the Windows - Mac - Linux hyper casual game HyperDot created by Minnesota based developer Charles McGregor @DarkaysTG (Tribe Games).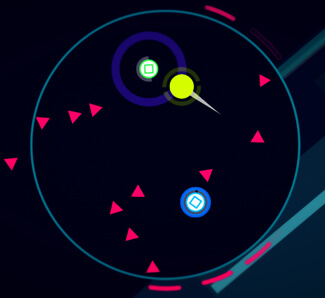 See HyperDot in action by watching the preview:
Game Devs of Color isn't just about discovering or playing the games. There were engaging panels and micro talks.
The one below, "Hip-Hop and Video Games" moderated by Shawn Allen @anuchallenger presented a timeline about how both art forms have combined to influence game development.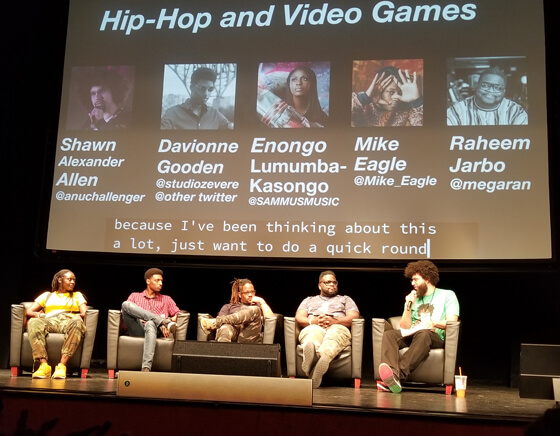 A lot is jammed into only 7 hours for this one day expo. There was no question and answer time after any of the auditorium micro talks or panels.
You had to track down the participants if you wanted some follow-up. This is fine for the manageable size of the current Saturday afternoon crowd at the Schomburg, however as #GDoCExpo grows this element should be worked into the schedule.