1 Growing Up Black In America Without Experiencing Racism Video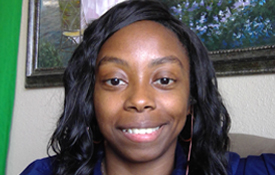 Shenteria Marie is an entrepreneur and professional voice over actress. You've heard her on our apps: Black History Audio Book(s), Black History Museums, and on several of our videos.
She is also an author who has written "Growing Up Black In America Without Experiencing Racism - A New Reality and Hope For The Future." Find her at ShenteriaMarie.com.
I discovered Shenteria's book from her Instagram feed. With such a provocative title, I was skeptical about her experience. You might be shocked too.
Every Black History Month I produce a special feature for our sister website, BlackHistoryPeople.com. For 2019, it's Shenteria's story. I'm sharing it with you now.
On a Sunday afternoon, I read her 116 page book in a little under 3 hours.
We did an interview using Skype on Wednesday, January 30, a few days before the Virginia Governor Ralph Northam Medical School yearbook racism photo controversy exploded.
Here is the full 14 minute conversation. You'll want to watch the whole video...