0 How Buttons And Memorabilia Can Inspire Mobile Apps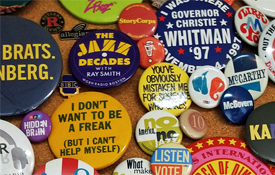 We've been collecting all kinds of wearable buttons for as long as I can remember. They represent a variety of interests.
Ours is a collection of buttons about people, technology, music, charities, radio, and especially politics.
In this video from our YouTube Channel: YouTube.com/QuikthinkingSoftware, you'll watch me explain how some of these buttons inspired a "both sides of the aisle" update to our match-3 Android game app Donald Crushed!
I had a long and colorful career in electronic media engineering, radio, and broadcast management.
These were great jobs providing memorable experiences...experiences driving many bright light concepts to hopefully implement in a 2nd career.
The 2nd career as you may have guessed is professional mobile app development. We've had our hand in general app development for 20 years plus.
See some of the music memorabilia and sources that influenced our apps RnB Music Quiz Soul for iOS and RnB Music Quiz Soul for Android. Watch the story and please subscribe to our YouTube channel.