0 People Power Jigsaw Puzzle App Review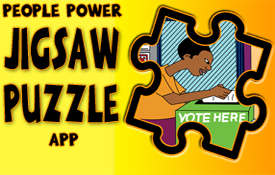 Jigsaw puzzles are calming stress relievers especially when you know you can complete one in a convenient amount of time.
On a mobile phone the portability of a jigsaw puzzle game is even better as this accommodates a fast paced lifestyle.
In this video I briefly explain the People Power Jigsaw Puzzle app philosophy before playing the game for you.
You can grab the game for iOS or Android.
Everyday professions or activities are the stars in the spotlight that form the pictures in these puzzles when the pieces are fitted together.
You'll like the slide show in the video revealing just a handful of the engaging featured folks.
On your phone or tablet People Power Jigsaw Puzzle game-play moves along at just the right pace. It's easy to get a game in between other tasks.
There's a total of 150 levels divided between easy, medium, and hard skill abilities so the app is perfect for all age levels.
Watch the video below.
As an alternative or addition, are you game for a celestial cosmic experience instead? Then jump all over Zodiac Jigsaw Puzzle App. It's a rainbow reflection of the signs, including yours.